About Us: The Team Behind Caring-for-Aging-Parents.com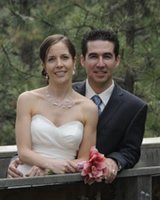 We are both Occupational Therapists (OT's), health care professionals whose main role is to improve independence and function.
Yes, we met at a hospital (originally). But then we met again a few years later downhill mountain biking. It took some dirt and adrenalin to make us really take notice of each other.
Over a burger and some laughs after a fun day on the trails, our romance began and there's been no looking back! After many new adventures, we were married 2 years later.
As we got to know each other, we discovered we're both passionate about working with the elderly. Before we met, we both worked in various settings but chose elderly care as our preferred field.
In addition to our "regular" jobs, we wanted to create a project we could do together. One that would combine our passion for working with the elderly and our experience as occupational therapists; our own project that would give us a way to reach out to others.
Over the years we noticed that working with the elderly almost always involved supporting their adult children in their role as caregivers. At the same time our own parents were - and continue to be - involved in caring for their aging parents.
From here the idea for Caring-for-Aging-Parents.com was born.
Now, some of us (Kevin) are more computer savvy than others (Tennille), but using the internet seemed like the best way to reach the most people.
So, here we are - continually enjoying working on Caring-for-Aging-Parents.com - together. Always trying to make it better and always having more and more ideas for what can be added.
Please let us know what else you'd find helpful for us to add!
Welcome,

Tennille and Kevin
Our Work Experience
Between the two of us we've worked with the elderly and their families in many different areas:
Hospitals
Emergency Department
Community and Home Health
Residential Complex Care (Nursing Homes)
Geriatric Day Programs
Memory Care Programs for Individuals with Dementia
Palliative/End of Life Programs
Geriatric Mental Health
Elderly Assessment and Short Term Treatment Program
Our Education
Our education includes:
Master of Science in Occupational Therapy from McMaster University.
Bachelor of Science in Occupational Therapy from University of British Columbia.
Bachelor of Commerce in Entrepreneurship from the University of Victoria.
Executive Certificate in Home Modifications from the National Resource Center on Supportive Housing and Home Modification based at the University of Southern California (Andrus Gerontology Center).
Continuing education courses covering a wide variety of topics including: power mobility assessment, wheelchair skills bootcamp, partners in movement, dementia care management, assessment and management of pressure ulcers, skin integrity management, cognitive assessment, assessment and treatment of acquired brain injury and motivational interviewing.
Our Background
Occupational Therapists are health care professionals whose main focus is to help people of any age be as independent in their function as possible.
We look at "occupation" as whatever a person does with their time. For children, it might be play, for adults it might be self-care or work, for older adults it might be volunteering or being able to move around independently.
The three main areas of occupation are self-care, leisure and productivity.
Self-care tasks might be taking a shower, getting dressed or brushing your teeth.
Leisure is the types of activities that one does to meaningfully occupy their time or enjoy themselves, such as spending time with family or watching a movie.
Productivity also looks at meaningful activity that engages a person in the world around them. Productivity might be work, it might be volunteering and, for children, it might be play or schoolwork.
Occupational Therapists work in a broad range of areas such as hospitals, community organizations, schools, community health centres, and nursing homes. OT's can also work in private practice or rehabilitation companies with organizations such as car insurance or return to work companies.
Regardless of where they work, OT's always have the goal of improving function, safety and independence.
Suggestions, Comments
If you feel Caring-for-Aging-Parents.com is missing important information, please do not hesitate to contact us.
Like Caring-for-Aging-Parents.com?