Cell Phones for Elderly
Types, Features and Recommendations
So, you're thinking about cell phones for elderly? You know they don't need the same features as cell phones for you and your kids. You're guessing they might need something simpler, but what?
There are cell phones for elderly that are designed specifically for them.
Although younger people want the latest smart phone so they can keep in touch with friends and watch videos, seniors can also use their phone for things important to them.
Cell phones for seniors are just as cool, but in a different way. Some phones have built in fall detection sensors that can detect if someone has a fall and automatically call an emergency call center.
Other phones have applications that remind seniors to take their medications throughout the day.
Technology is rapidly changing the way people communicate and organize their lives. Cell phones for elderly can do similar things for your aging parents.
Benefits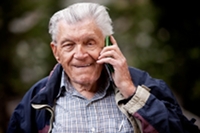 Safety - Can call for help when they are outside the house or cannot get to their regular phone (for example, if they fell and were unable to get up). The new phones with GPS can be used to locate seniors who have wandered away from home.
Convenience - You and other family members and friends can reach them when they are not at home.
Reminders/Prompts - Some cell phones can be programmed to remind seniors to take their medication or attend a doctors appointment.
Peace of Mind - You will be less worried about your loved one as you can check in with them more.
Recommended Features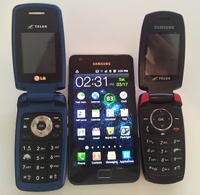 There are so many different cell phones for elderly available, and more coming out every year that it is difficult to recommend one or two phones.
The aging process affects individuals senses including vision, hearing and touch. It also affects our cognition including our memory and processing of new information.
That's why popular cell phones for younger people are not suitable for seniors.
Look for cell phones for elderly with the following features:
For Decreased Vision
1) Large, Bright, Easy to Read Screen - Many seniors have difficulty with their vision so the screen should be large and use easy to read fonts.
2) Simple Design - Simple intuitive design works best with only basic buttons.
3) Big, Easy to See Buttons - Instead of cramming as much information on the screen as possible, it's better to have large easy to read buttons and menus (for touch screens).
4) Voice Recognition - These features have come a long way over the years and are now very reliable. The user can simply say "Call Home" and the phone will dial the preset home number.
5) High Contrast Screen Colors - The menu colors should be high contrast so it is very clear to see.
6) Adjustable Font Size - Font size should be adjustable so users can adjust it according to their vision. This should be a simple feature to use and not involve multiple menus or referring to the manual.
7) Large Icons - Icons should be large and clearly visible. This includes battery life and cell reception icons which are often small and put in corners of screens.
For Hard of Hearing
1) Adjustable Volume Control - The adjustment should be easy to find and use. A large rocker button on the side of the phone is usually the best choice.
2) Hearing Aid Compatible - Many seniors wear hearing aides and it's important that the phone is compatible or it will be frustrating for the senior to use it.
3) Powerful Speaker - The speaker should be powerful enough for seniors to use without their hearing aid.
For Decreased Cognition
1) Easy to Add Names and Contacts - It should be easy to add and use the contact list. One or two steps is best.
2) Intuitive Menus - Seniors should not have to read a manual to learn how to use the phone. It should be very easy to figure out by looking at the screen. There should be adequate prompts on each screen to guide the user.
3) Minimal Steps To Use Main Features - It should only take one or two steps to complete a function. Anything more and most seniors will not use the feature.
4) Similar to their Home Phone - If possible, choose a phone that is similar to their home phone as they will be more familiar with it.
For Decreased Touch/Dexterity
1) Large Buttons - Cell phones for elderly should have large buttons that provide feedback when they are pushed.
2) Not Too Small - The phone should not be too small that it is hard to hold.
3) Durable - It should be able to withstand the occasional drop.
Advanced Features
Cell phones for elderly are advancing every year.
Some of the more interesting and useful models include:
1) GPS Locator - This is an excellent feature for someone who becomes disorientated as they can simply push a button and it can notify a selected person of their location. It can also work in the reverse, if someone is looking for them. For example, an adult son is looking for his dad who has wandered away from home.
2) Built in Elderly Medical Alert Feature - This allows the user to call for help with just a push of a button. New models are also including fall detection features which can detect a fall and automatically call an emergency call center (or a loved one).
3) Personal Operator - This is an option that allows the user to connect with a call center which will dial the contact they want to speak with. This is excellent for individuals with decreased vision and/or cognition because all they have to do is push one button and the operator takes care of the rest.
4) Medication Reminders - There are applications for cell phones for the elderly that remind users to take medications throughout the day. They also record the medication history so care givers and loved ones can monitor.
5) Fall Detection Sensor - This feature will detect a fall and automatically call preset emergency numbers or even 911. If it also has the GPS locator feature it can provide this information to the emergency call contact.
6) Programmable Emergency Buttons - Some cell phones for elderly have dedicated buttons that can be programmed to text and/or call contacts in case of an emergency.
7) Change Contacts Online - Some phones can be programmed online rather than trying to enter names and numbers on the actual phone. This means that you can program contacts and numbers for their phone over the internet which makes is a very convenient feature.
Which Plan to Buy
There are two main types of plans for cell phones for elderly:
Prepaid Plans
The owner purchases minutes, texts and/or data on a per unit basis. The time, text or data can be used until it runs out. They often have expiry dates such as the units have to be used in 6-12 months.
Advantages
No monthly contracts
Good for seniors with landlines in their home or seniors housing.
Great plan for people who want a phone for emergency or infrequent calls.
Phones are usually less expensive than monthly rate phones - but this usually means they have less features.
Disadvantages
May not have a variety of phones to choose from.
Can be expensive if they use it frequently.
Monthly Plans
These plans cover local, long distance, text messaging and data plans on a monthly basis.
Advantages
More affordable for people who will use it regularly.
More phones available to choose from.
More features available to choose from.
Disadvantages
Only a good deal if they use the potential of the plan because they pay regardless of if they used all the minutes, texts and/or data.
May have to sign a contract to reduce the cost of the phone.
Should They Get A Contract?
It depends on how much and for how long you foresee your parents using the phone.
Some seniors are very interested in technology and will definitely use the phone for years to come.
Others are not interested in technology and may not use it. However, if you signed a 3 year contract then it can be expensive to break the contract.
My Recommendation: If your parents do not have a cell phone already then I would recommend starting with a prepaid plan. If they use it frequently, then you can think of a monthly plan and possibly signing a contract. The only advantage to signing a contract is getting a reduced rate on a phone.
Replacing or Upgrading Cell Phones for Elderly
If you are helping your aging parents purchase a new cell phone, there are a few things to consider.
Similar Design - The key to having them successfully use the new cell phone is if it operates the same way. The buttons should be in the same locations as their old phone. Seniors can have difficulty learning new information and whenever possible it is best to stay with cell phones for elderly that they are familiar with.
Transfer Information and Contacts to New Phone - It is often very easy for the salesperson to transfer information and contacts from the old phone to the new phone.
Like Caring-for-Aging-Parents.com?