Bathroom Products
for the Elderly
Recommendations and Buying Guides
Bathroom products for the elderly are an easy way to improve home safety for the elderly.
A great number of the falls we see are in the bathroom because both water and balance can be problems.
There is also a lot of moving around in the bathroom (getting on and off the toilet, leaning forward at the sink, getting into and out of the bathtub or shower).
The more moving around and transferring there is, the increased risk of falls; especially if balance is already an issue.
I find one of the riskiest areas in the home for falls is the bathtub. The shower can be just as risky, depending on the set up.
The articles in this section will help you decide which bathroom products for the elderly are the best to increase safety for your aging parent.
Bathroom Grab Bars
Bathroom grab bars are one of the easiest ways to improve bathroom safety in the elderly population.
A bathroom grab bar provides a stable surface to hold onto when moving around in the bathroom.
Bathtub grab bars are products for the elderly that can be permanently installed into the area surrounding the bathtub or can be temporarily clamped on to the tub edge.
Shower grab bars can either be installed permanently or suctioned on. They work as shower handles to hold onto when moving into and out of the shower.
Grab bars can also be installed beside the toilet to increase safety on and off the toilet.
Bathroom grab bars are versatile and relatively inexpensive products for the elderly to improve bathroom safety.
Bathtub Chair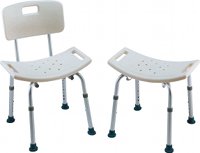 A bathtub chair is placed in a bath or shower to give an elderly person a place to sit down when showering.
They are referred to with many different names but there are essentially two types of bathtub chairs:
Bathtub/shower stool (with no back)
Bathtub/shower chair with a back
They are particularly helpful for elderly who tire easily or have issues with balance.
Folding Shower Chair
A folding shower chair can be two types:
A bathtub chair that folds-up
Either with a back (chair)
Or without a back (stool)
A permanently installed board that flips up and down to sit on in the bathtub or shower
A folding shower chair can be great way to save space, especially if the space needs to be shared.
Shower Board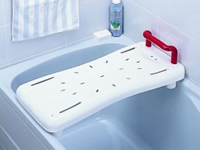 A shower board is actually used in a bathtub and spans the width of the bathtub.
It requires a lip on either side of the bathtub big enough to sit on and is secured with dials.
The shower board has few important roles:
Provides a surface for the person to sit down onto from outside the bathtub so they can access the bathtub in sitting (thus preventing falls as it's harder to fall from sitting than standing)
Allows the person to slide over into the middle of the bathtub (again, decreasing the risk of falls as this movement is done in sitting)
Serves as a surface to sit on while showering
Shower boards are particularly helpful for people that have poor balance stepping into and out of the bathtub and also need a place to sit while showering.
Shower Bench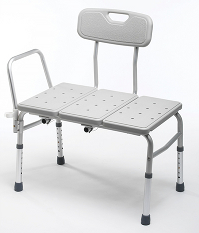 A shower bench is one of my favourite bathroom products for the elderly to improve safety into and out of the bathtub.
Shower benches are actually used in the bathtub and are also called a bath bench.
The bathroom bench is set up with two feet in the bathtub and two feet outside of the bathtub (the feet inside the tub will be shorter than the feet outside the tub so the bench is still level).
It provides a flat surface for the elderly to sit on outside of the tub. They can then swing their legs into the tub while sitting down which is much safer than trying to lift their legs up and over the side of the tub.
They can then use it as a sliding transfer bench, scooting their bottom across it in sitting which also reduces the risk of falls dramatically.
The shower bench differs from the shower board as it is height adjustable and usually has a backrest.
Bathtub Lifts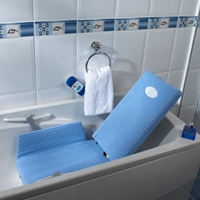 Bathtub lifts can be life-savers for elderly who love to have a bath or need to soak in hot water but can no longer get down into the bathtub safely.
A bath tub lift sits flush with the top of the bathtub. The person sits on it and brings their legs into the tub in sitting.
Once centred, the bathtub lift lowers down onto the bottom of the tub, allowing a person to soak in the water – safely.
When they are done soaking, the lift is brought back up flush with the top of the tub and they can then get up from the sitting position they started in.
Most bathtub lifts are powered by battery or water-powered. They are more expensive than other bathtub options but can be worth the money for some elderly people.
As a person that absolutely loves to take a bath, I am saving up my money now for a bath lift chair!
Shower Wheelchair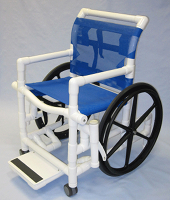 A shower wheelchair is a seat with wheels (often looks like a wheelchair) that is meant to roll right into a shower stall.
The shower stall must be big enough for the shower wheelchair to move into and out of it.
They are most often used with people who have caregivers to assist though I have known a few clients who have used them independently.
The shower wheelchair has brakes. Other typical options are tilt (for elderly with paralysis or difficulty maintaining an upright position), seat belts (if necessary to keep a person safely in the shower wheelchair) and headrests.
A shower wheelchair is used most often for people with permanent disabilities who have issues with maintaining an upright position in sitting. A shower wheelchair requires adequate space for maneuvering.
Hand Held Shower Head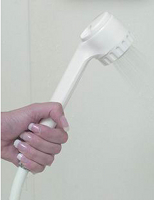 A hand held shower head can be helpful for the elderly when taking a shower.
It is detachable with a long cord so can be held in the hand to wash all the body parts.
They are helpful in keeping people independent for longer but is also extremely useful for caregivers when assisting the elderly with a shower.
Elevated Toilet Seats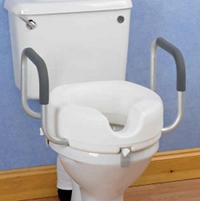 Elevated toilet seats are a way to make toilets higher – and easier to get on and off of.
I have never understood why the regular run-of-the-mill toilet is so low??! Lower surfaces simply make it harder to get up and down, particularly for elderly people.
Elevated toilet seats simply bring up the overall height of a toilet.
They come in many different shapes and sizes so it's important to choose the right one to fit your toilet.
These products for the elderly can make all the difference in ease and safety when getting up and down from the toilet.
Toilet Safety Rails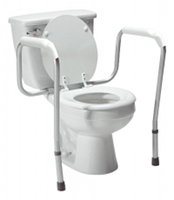 Toilet safety rails attach to the back of your existing toilet to provide a surface to push down on when sitting onto or getting up from the toilet.
For elderly who find getting up and down from chairs with arms much easier, a toilet safety frame would work well.
A bonus of toilet safety rails is that they are not permanently attached and can be quite affordable.
Commode Seats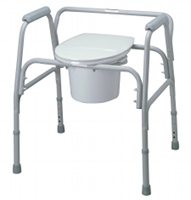 Commode seats can be a replacement for your toilet or can fit over-top your existing toilet.
They come with a bucket and a sleeve. The bucket is used when the commode seat is not over the toilet and sleeve is used (to stop splashing or wetness escaping) when commode seats are over the toilet.
Commode seats can come with wheels or without wheels. They can be adjustable in height and usually have arms attached.
The nice thing about commode seats is that they can be used anywhere needed.
I've seen them used at the bedside when an elderly person is no longer safe walking to the bathroom at night. I've seen them used in the shower for quick clean up afterwards (and they double as a bathtub chair). I've also seen them used over the toilet with great success.
Commode seats can be a simple solution to multiple issues.
Like Caring-for-Aging-Parents.com?