Fall Prevention in the Elderly
Information and Resources To Help Prevent Falls
Fall prevention in the elderly can improve the safety of your aging parents.
Falls are a main cause of serious injuries in the senior population and are often a source of fear in the elderly.
Fall prevention is being aware of (and possibly addressing) the elderly's abilities/behaviors (balance, concentration, rushing) as well as reducing risks in their environment (home, community).
The goal is making sure the environment your loved one is in is matched to their abilities - so if they have mobility issues, make sure there are no fall hazards.
If they have cognitive issues, make sure there are items that support them such as calendars, clocks and supervision if needed.
Personal Factors
1) Decreased Balance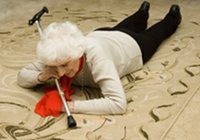 Solutions:
Walking aids: cane, rollator walker, wheelchair or scooters for elderly
Use wall or stable furniture for support (also called furniture cruising)
Install handrails as needed
Get up slowly, pause before moving to ensure no dizziness
Increase physical activity (including exercises that improve balance: Tai Chi, Yoga)
Wear glasses or stay in well lit areas
Regular, balanced meals to give yourself energy
Sit down for dressing or to put your socks and shoes on; can use aids such as a long-handled reacher, long-handled shoe horn and/or a sock aid
Take your time
---
2) Decreased Strength
Problems:
Lack of physical activity causes weak muscles and stiff joints
Conditions affecting the muscles and joints such as arthritis, osteoporosis, Parkinson's, diabetic neuropathy and stroke need to be treated specially; consult your physiotherapist or doctor
Solutions for Fall Prevention in the Elderly:
Do exercises for the elderly daily in bed or chair
As long as it is safe, walking helps strengthen your legs; go each day and gradually increase your distance
Join exercise programs at recreational centres
Plan regular activity to increase your exercise tolerance - invite a friend
See physiotherapist for specialized exercises and stretching
See massage therapist for muscle tightness and stretching exercises
Avoid stairs if you do not feel strong enough, particularly if there is no handrail
---
3) Shortness of Breath
Solutions:
Cut down or stop smoking
Gradually increase physical activity
---
4) Difficulty with Concentration
Solutions for Fall Prevention in the Elderly:
Tape a list of emergency phone numbers by your phone
Program important and frequently called telephone numbers into your phone if it has this option
Eat regularly to prevent physical weakness and mental sluggishness
---
5) Dizziness
Solutions:
Sit on side of bed for a few minutes before you stand up
Install a bed rail for elderly
After standing, pause and take one slow, deep breath before you take a step
Tell your doctor if you suspect your medication is making you drowsy or dizzy
---
6) Foot Problems
Solutions:
Wear proper fitting supportive shoes with low broad heels
Choose shoes that offer better support than slip-ons
Talk to podiatrist (foot doctor) about calluses, bunions, corns, ingrown toenails; corn plasters are not recommended for people with diabetes, heart or blood vessel disease
Buy slippers that fit properly and are enclosed around the heels
If your shoes are loose and you can't afford a new pair, buy insoles or wear extra socks
Maintain good posture, consult physiotherapist if necessary
Talk to foot care specialist, nurse or occupational therapist about proper foot care when decreased feeling / sensation due to diabetes
Keep your feet propped up above your heart when sitting or lying if you have swollen feet
For more information: Shoes for Elderly
---
7) Sleep Issues
Solutions:
Normal sleeping for older adults: six hours per night, awaken twice during night with 20 minutes to go back to sleep
If you can't sleep after 20 to 40 minutes, get up and do something like read a book or listen to music
Avoid caffeinated foods and drinks after 4 pm, try warm milk instead
Do not nap in late afternoon or early evening
Keep bedroom cool and quiet
Ensure mattress is firm and comfortable
Learn relaxation techniques; try a hot bath
Medication can contribute to lack of sleep, talk to your doctor
Increase exercise during day
Decrease alcohol consumption
Try and get outside for 20 minutes per day
For more information: Sleep and the Elderly
---
8) Bowel/Bladder Urgency
Solutions for Fall Prevention in the Elderly:
Urinal and/or commode by bedside
Nightlight for night movement to bathroom
Exercises for strengthening the muscles that control urine flow (Kegel exercises)
Go to the bathroom before going to bed
Avoid constipation by eating a high fibre diet (veggies, fruit, whole grains), plenty of fluids and exercise
Drink enough fluids so that your urine is light yellow in colour (usually 6 – 8 glasses
or non-caffeinated drinks). Drinking too little fluid will cause irritation to the bladder and possible a urinary tract infection
Incontinence products for women and men are available at medical supply stores and pharmacies
---
9) Reaching (when objects are too low or too high)
Solutions for Fall Prevention in the Elderly:
Keep frequently used items below shoulder height, on easy-to-reach shelves, and/or at counter level
Do not use step ladders/stools
Keep things you use often within easy reach
---
10) Rushing
Solutions:
Use cordless phone and carry it around; let the person call back or the answering machine take the message instead of rushing
Take your time, especially when carrying objects
Slow down, plan ahead, rest when tired and always give yourself more time to get to places and things done
Allow enough time to complete tasks
Make a "to do" list to avoid procrastination and rushing
Try to focus on one task at a time
The Environment
1) Indoor Hazards
Problems:
Loose carpets, scatter rugs
Slippery/wet floors, walkways
Poor lighting
Clutter such as phone/ electrical cords, shoes, pet dishes, paper etc.
Uneven walking areas
Using step stools
Crowded or poor furniture arrangement
Pets around the feet
Solutions for Fall Prevention in the Elderly:
Remove scatter rugs, tack down carpets
Tape down electrical cords
Install handrails for all stairs inside and outside house
Can install handrails along hallways if needed
Wipe up spills immediately
Fix or mark uneven floors
Nightlight
Keep walkways clear of clutter
Do not stand on ladder, chair, stool; if you do use a step stool, make sure it has a handle; try to organize shelving so items are easy to reach
Use a trolley to carry items or your four wheeled walker basket
Change arrangement of your furniture to open up the space, this is especially important if using walking aids
Watch out for pets underfoot
For more information: Home Safety for Elderly
---
2) Bathroom Safety
Solutions for Fall Prevention in the Elderly:
Non-slip mat
Grab bars
Bathtub bench (may be safer than a bath chair as senior can access tub while seated)
Raised toilet seat
Hand-held shower head
Long-handled sponge
Toilet rails or grab bar by toilet
Good lighting
Use liquid soap dispenser (well-secured) instead of bar soap, shampoo and conditioner
Consider replacing towel rack with reinforced grab bar if senior holds onto
If strength is an issue, consider sitting for grooming
---
3) Poor Lighting
Solutions:
Use non-glare bulbs that are 100 watts or greater
Wear sunglasses when in the sunlight or when there is a glare
Remove reading glasses when walking
Pause and give your eyes time to adapt to changes in light when entering and/or leaving a room
---
4) Outdoor Hazards
Problems:
Blocking vision by carrying too much
Walking on uneven ground
Wet leaves, fallen branches
Snow, ice, water
Raised, cracked sidewalks
Improper footwear for weather
Getting on and off buses
Poor outdoor lighting
Solutions for Fall Prevention in the Elderly:
Walk on wet leaves, snow or ice only if absolutely necessary
If you must walk on snow, it should be "crunchy"
Walk slowly and pay attention
Try to avoid particularly hazardous areas
Avoid reaching or twisting when walking and standing
Keep one hand free for balance unless using a walker
Use a waist belt pack or backpack instead of carrying a purse
Avoid carrying heavy items
Use portable grocery cart or basket on rollator walker
Install automatic or timed lighting outside
Place winter grip on rubber tip of cane and shoes
Like Caring-for-Aging-Parents.com?