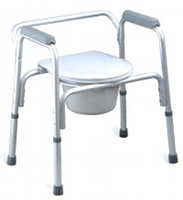 Commode Seats
Product Guide and Recommendations
Commode seats can be useful items to have both on a temporary and long term basis.
They can be placed at bedside if getting to the bathroom at night is difficult or unsafe.
Or they can be placed over the toilet to provide an elevated seat as well as arms to push up from, both of which make toileting safer.
The great thing about a commode is that they are portable.
They can be used over the toilet to increase seat height and provide sturdy armrests but also used anywhere else in the home (ie. at the bedside at night).
They are easy to take along if seniors travel often or are visiting relatives.
Commodes can really improve safety and allow your elderly parent to be independent in their home for longer.
Who Should Use?
Commodes are designed for anyone with difficulties with strength, balance and endurance.
They are great if getting to the bathroom at night is risky for your elderly parent.
They can also be used on a level of the home where there is no bathroom and it's difficult for the elderly to manage the stairs.
Who Should NOT Use?
There are few reasons that a commode would not be appropriate for the elderly.
Some come with wheels. They do not always lock well and can put a person at risk for falls.
Other older versions have a releasing mechanism for the armrest that can be easily bumped and the armrest can fall away. These also can put seniors at risk.
Recommended Features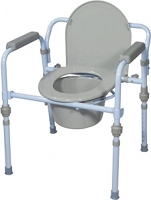 I do not generally recommend commodes with wheels. Often caregivers use them as a way to wheel someone around. This is not safe as commodes are not meant for this purpose. If an elderly person requires transport, they should be using a wheelchair.
Here are the recommended features for a regular everyday commode:
Rubber tips on the legs, no wheels.
Sturdy commodes with arms that do not release.
The commode seat comes with a bucket and a sleeve.
Extra-large opening at the front of the commode if needed for male genitals or enlarged prostate.
There are exceptions to every rule and there are different types of commodes that will be appropriate for some situations.
Types
Commodes come from quite simple to quite specialized.
1) Standard, No Wheels
The most simple version is the type with no wheels (standard) and a sleeve and bucket.
The sleeve is used to reduce spray when the commode is placed over the toilet.
The bucket is used when the commode seat is being used in another place than over the toilet (as the waste needs to be collected in a bucket for disposal).
2) Commode with Wheels
There are regular commode seats with wheels (though these are not always the safest option).
3) Commode with Tilt
There are also commodes that tilt for people with severe balance issues and difficulty maintaining an upright sitting position. These types often roll as they might be used in a care facility and need to be easily portable (they are also MUCH heavier than regular commodes so cannot be picked up and moved).
4) For Shower Use
Some commodes are designed for use in a shower stall and are much like a shower wheelchair but with a commode opening.
Accessories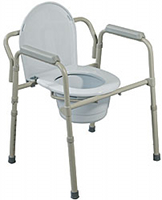 Some brands advertise 4 in 1 as commode seats can also serves as elevated toilet seats, toilet safety rails and can also be used as a bathtub chair.
Bariatric: will accommodate weight from 500 up to 1000 lbs
Toilet paper holder
Backrest: most commode seats come with backrests
Padded seat or backrest: for comfort or if there is a risk of pressure sores
Padded armrests
Larger buckets to hold more
Drop arm and removable back: these features are usually used for overweight individuals (bariatric) to make the transfer onto and off of the commode seat easier
Extra-large opening if needed
How to Fit
Seat height - Make sure the legs can be adjusted to the right seat height... the Goldilocks rule. Not too low that the senior has a hard time getting on and off but also not too high that their feet are not touching the floor.
Width – make sure the commode seats are wide enough for your elderly loved one. If not, then also be sure to check the weight limit.
Weight limit - Make sure the intended user's weight is within the weight limit for the design you purchase.
How to Use
There are two main uses:
Location - allow the user to "go to the bathroom" without having to go to the bathroom. A common location is at bedside. Another use is for people who have difficulty with stairs and the bathroom is on a different floor of the house than they are on. With the addition of some hand sanitizer, you can turn any room in the house into a bathroom!


Over the toilet - Commodes over the toilet raise the seat height as well as provide arms to push up from. Many seniors find toilet seats too low to get on and off safely and easily. This is a simple, cost effective and portable solution.
How Much Do They Cost?
They can cost anywhere between $60 and $250 depending on the quality. Some come with both a pail (with lid) and a sleeve (for use over the toilet).
Specialized commode seats with tilting mechanisms can cost anywhere up to +$3000.
Like Caring-for-Aging-Parents.com?