Elderly Day Care
Resources and Recommendations
Elderly Day Care Centres provide a break (respite) to the caregiver while also providing health services, therapeutic services, and social activities.
They are usually designed for people with Alzheimer's disease and related dementia, chronic illnesses, traumatic brain injuries, developmental disabilities, and other illnesses or disorders.
Elderly day care is also referred to as Adult day care centers.
Some centers are designed specifically for seniors with dementia while other centers serve the broader population.
They are usually staff by professionals that are skilled in working with elderly of different levels of cognitive ability.
The staff are usually amazing at finding a way for everyone to enjoy themselves while provided a much needed break for caregivers.
Benefits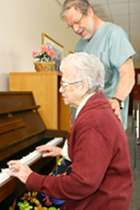 Adult day care allows caregivers many benefits including:
Receiving assistance with the care of a loved one.
Continuing working or volunteering outside the home.
Avoiding the often guilty feeling of placing a loved one in an institutional care setting.
Receiving much needed respite (break).
The care receiver/attendee also benefits from elderly day care including:
Remaining at home with their caregiver but do not require 24-hour care from the primary caregiver.
Having an opportunity to interact socially with peers.
Sharing in stimulating activities/games adapted for their variable levels.
Receiving physical or speech therapy (if needed/available).
Receiving assistance with the activities of daily living (self care activities). The level of support for this may vary depending on the Elderly Day Care Centre.
Services
A day at an elderly day care center could include:
Arts and crafts
Musical entertainment and sing-a-longs
Mental stimulation games such as BINGO
Stretching or other gentle exercise
Discussion groups (books, films, current events)
Holiday and birthday celebrations
Local outings
Supervised care
Nutritious meals
Transportation
Case management
Nursing care
Education
Family counselling
Assistance with activities of daily living (self care)
Occupational, speech and physical therapies
These services are customized to each participant's needs.
Types of Day Care for the Elderly
There are three main types of day care programs for the elderly:
Adult day social care provides social activities, meals, recreation, and some health-related services.
Adult day health care offers more intensive health, therapeutic, and social services for individuals with severe medical problems and for those at risk of needing to enter nursing home care.
Alzheimer's specific adult day care provides social and health services only to persons with Alzheimer's or related dementia.
Who Should Attend Adult Day Care?
Individuals who have caregivers that who work outside the home and are unable to stay home to care for them.
In addition, caregivers who do not work outside the home but wish a break from caregiving to run errands, socialize, or simply to rest.
It is an excellent way to prevent caregiver burnout.
Good candidates for elderly day care are seniors who:
Can benefit from the friendship and functional help a day care center offers.
May be physically or cognitively challenged but do not require 24-hour supervision.
Are in the early stages of Alzheimer's disease.
Whose caregivers are experiencing caregiver burnout (stress related to caring for an elderly person).
For the most part, participants need to be mobile, with the possible assistance of a cane, walker or wheelchair, and in most cases, they must also be continent.
How Long Do Participants Stay?
Programs vary but attendees usually attend the program for several hours a day to a full day (eight hours), up to five days a week.
Publicly funded programs may only be able to offer 1-2 days per week of service but privately funded programs can often do full weeks.
Most programs do not offer weekend services, although a few may offer half-day services on Saturdays.
Some programs include transportation so participants are picked up from their home and return at the end of the day.
How To Choose
It is important for caregivers to do some research to determine whether the elderly day care center is right for their loved one.
A quality day care for elderly program will include the following:
Conducts an individual needs assessment before admission to determine the person's range of abilities and needs;
Provides an active program that meets the daily social, recreational, and rehabilitative needs of the person in care;
Develops an individualized treatment plan for participants and monitors it regularly, adjusting the plan as necessary;
Provides referrals to other needed community services;
Has clear criteria for service and guidelines for termination based on the functional status of the person in care;
Provides a full range of in-house services, which may include personal care, transportation, meals, health screening and monitoring, educational programs, counselling, and rehabilitative services;
Provides a safe, secure environment;
Uses qualified and well-trained professionals and volunteers;
Adheres to or exceeds existing State and national standards and guidelines.
Questions to ask when evaluating an elderly day care center:
Who owns or sponsors the agency?
How long has it been operating?
Is it licensed or certified? (If required in your state)
What are the days and hours of operation?
Is transportation to and from the center provided?
Which conditions are accepted (e.g., memory loss, limited mobility, incontinence)?
What are the staff's credentials, and what is the ratio of staff to participants?
What activities are offered? Are there a variety of individual and group programs?
Are meals and snacks included? Are special diets accommodated?
One place to start searching is in the Yellow Pages, which will list possible options under "Day Care Centers-Adult."
The Better Business Bureau may also have information on for-profit adult day care centers. Ultimately, word of mouth is often one of the best ways of finding quality elderly day care.
How Much Does It Cost?
Fees can range from $25 per day to $70 per day, with the average about $50 per day.
Many programs provide services with a sliding fee scale, meaning that attendees pay a fee based on their income.
Medicare does not cover day care costs, but Medicaid can pay all the costs in a licensed day care center with a medical model or an Alzheimer's environment if the senior qualifies financially.
Some elderly day care centers offer financial need based scholarships.
Private medical insurance may cover a portion of day care costs when registered, licensed medical personnel are involved in the care.
Long-term care insurance may also pay for elderly day care services.
Like Caring-for-Aging-Parents.com?