Light Weight Wheelchair
Product Guide and Recommendations
A light weight wheelchair is designed for elderly who are able to propel it themselves but also want the option of being able to have someone push them at times.
They have two large wheels in the rear and two small wheels up front.
A transport wheelchair on the other hand has four small wheels. This makes it difficult to self propel but more portable and perfect for elderly who want a wheelchair that a friend/family can push them in.
A light weight wheelchair folds in half to allow them to be transported in the trunk of a car - although some seniors (and those younger!) have a difficult time lifting some models.
Some seniors use a walker in their home and this type of wheelchair for longer distances.
Other elderly use a light weight wheelchair as their primary means of moving around.
They spend many hours in the wheelchair everyday so a high quality cushion is necessary. It's also important to have been fitted properly so they can easily self propel it with their hands and/or feet.
Overview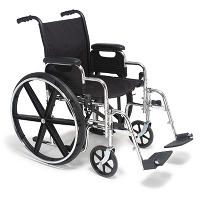 A light weight wheelchair has a seat, two large and two small wheels.
They are designed for elderly who have difficulty walking - either all types of walking or just for longer distances or on uneven ground (such as outside).
They can be self-propelled by the senior (with their feet and/or hands) as well as pushed by a friend or family member.
They also fold up to fit into the trunk of a car for transport - although not as easily as a transport wheelchair.
Who Should Use?
A light weight wheelchair is designed for elderly who:
Have decreased strength, endurance, balance and flexibility which affects their ability to walk safely.
Are at risk of falling while walking (even with a mobility aid such as walkers for elderly)
Have the ability and want to be able to self propel with both arms and feet.
Will spend a fair amount of time in it so they would benefit from the option of a specialized cushion, backrest and other accessories.
Want the ability to be easily pushed by a friend/family member.
Who Should NOT Use?
They are usually not recommended for elderly who:
Are walking but want a wheelchair for longer distances that their family or friend can push - they would be better off getting a transport wheelchair
Cannot self propel with their arms or feet - they may be better suited to use a motorized wheelchair (if possible)
Needs recline/tilt feature to decrease risk of skin breakdown - they would be better suited to a reclining wheelchair
Recommended Features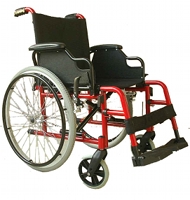 A good light weight wheelchair will be:
Light weight - Heavy (usually older) wheelchairs are difficult to self propel and pick up to put in a vehicle
Adjustable armrest height - It's more comfortable if the arm rests can be adjusted for a person's height and cushion thickness
Removable or flip up armrests - Makes it easier to transfer in/out for some elderly
Brakes are in reach - Some brakes are too low or tucked away that make it difficult for elderly to use - brake extensions can be handy for this
Removable leg rests - Allows for safe transfers in/out of the wheelchair
Firm seat platform - So the cushion is well supported and not drooping in the middle
Anti tippers - To prevent the wheelchair from tipping over backwards
High push handles - If caregivers will be pushing the senior regularly (so the caregiver does not have to hunch over to push)
Accessories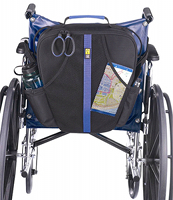 There are a wide variety of wheelchair accessories including:
Wheelchair backpacks - Attach to the back/side of the wheelchair to carry items
Oxygen tank holders - Great for elderly who use oxygen
Cup holders - To carry water bottles or any other drink container
Cushions - From simple foam to high tech air/gel cushions
Back supports - From simple to high customized
Tires - From road slicks to mountain bike tires
Bags - Attach within reach of the senior for small items such as money or lipstick.
Seat belt - For positioning.
How to Fit
There are three basic measurements used in fitting a wheelchair.
Hip width - This is used to determine the width of the seat
Thigh length - This is used to determine the depth of the seat
Knee to ground height - This is used to determine the seat height and leg rest length
How to measure (use a soft sewing measuring tape or a string and measure string with yard stick or carpenter's measuring tape):
Have the senior sit in a kitchen chair
Measure hip width at widest part
Measure from back of knee to lower back/bottom (keep measuring tape parallel to floor)
Measure from back of knee to floor (have them wear their regular shoes)
If they will self propel with their feet, this is the right measurement
If they will not use their feet to self propel, add 2-3" to this measurement
How to Use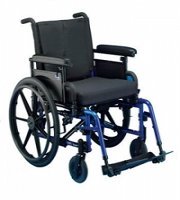 How to propel:
Make sure brakes are on and leg rests are removed before having elderly get into wheelchair
Have them walk up to wheelchair until back of legs are touching
Have them reach back for armrests and sit down
If propelling with arms - have them put leg rests on and push wheels forward with short strokes The middle of the wheel should be directly under their shoulder.
If propelling with feet - keep leg rests off and have them walk with their feet (the chair will need to be low enough for them to put feet flat on the ground
Always remind elderly to put brakes on before they get in and out of wheelchair.
For foot propelling, it is a balance between having the wheelchair low enough to walk easily but not too low that it is difficult to get out of.
How Much Do They Cost?
They range from $500 to over $3000, depending on the features and customization needed.
Other Types of Wheelchairs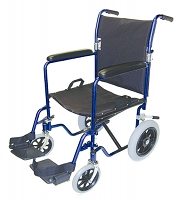 There are several other types of wheelchairs, including:
Like Caring-for-Aging-Parents.com?