Recliner Lift Chair
Product Guide and Recommendations
A recliner lift chair is an excellent solution for elderly who have difficulty getting up from their living room chair and/or flop into their chair when trying to sit down.
Maybe their current chair or couch is too low for them to safely get in/out.
They're considering buying different furniture and you wondered what about one (or two) lift chairs?
A lift chair is operated electronically with the help of a remote control - powering an electric motor (or two) that control the lift and recline features.
They are a great option as they can make getting in/out easier as well as reclining - all with the push of a button.
Simple to use and some have great features such as massage, heat and built in tables/trays.
Read more to determine if they would be useful for the elderly in your life.
Overview
A recliner lift chair is a recliner with a motor (or two) that moves the chair into a lifted position and a recliner position.
Lifts up: It has an electric motor that stands the chair up so it is easier to stand up from.
Reclines: It also stays in this position so that when the user is ready to sit down, it slowly lowers them into the seated position.
When seated, the motor moves the chair into a reclined or even laying down position (in some chairs).
Who Should Use?
Anyone with difficulty getting up and/or sitting down in their chair.
This could be due to pain, decreased strength, decreased balance and/or decreased endurance.
The nice thing about them is that they can be used by anyone - visiting family and friends probably won't even notice that it is a lift chair.
They also come in a wide variety of styles to match the existing furniture and design.
Who Should NOT Use?
Seniors who do not need the extra assistance a recliner lift chair provides would be better off maintaining their strength by sitting in a regular recliner chair.
The saying goes - if you don't use it you lose it. It's always a good idea to keep the strength and endurance you have now and post-pone purchasing products that make it easier until you need them.
Some seniors have difficulty with their transfers into bed so they purchase a recliner lift chair thinking it's something they can sit and sleep in.
The problem with this is the senior can lose more mobility and because they are not alternating different positions, they are at risk of skin issues (bed sores, etc).
I recommend trialling different ways to set-up their bed so it's easier to get in/out of. For example, transfer poles, bed ladders or a hospital bed.
Types of Lift Chairs
There are several different types of recliner lift chairs:
2 Position
Chairs which help a person sit, stand and partially recline.
The entire chair lifts and tilts forward. When the chair is lowered, the user has the option of lowering themselves to a normal sitting position or, if they hold the lowering button, their feet will be elevated. When the chair travel has reached the end, the user will be sitting in an upright position with their feet out and level with their hips.
3 Position
Chairs which help a person sit, stand and fully recline.
These are a step up from a 2 position chair. The controls work the same but when the travel of a three position lift chair reaches it's lower maximum, the user's knees and feet are higher than their hips and the back of the chair is reclined. Many people who have trouble sleeping while lying flat in a bed will choose this model of lift chair to sleep in at night.
Infinite Position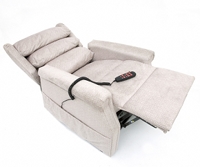 Chairs with two motors that allow for infinite positioning options.
The infinite position chair is an upgrade from the 3 position chair. It reclines to an almost flat position for sleeping.
The user can adjust the angle of the backrest and footrest, and raise/lower the chair. Both the backrest and footrest are power operated, and can be independently adjusted. When fully reclined an infinite position lift chair lies out flat like a bed. Some models have a mattress/fitted sheet option.
Bariatric
Chairs designed for people who weigh over 300 lbs or 135 kgs.
Are wider, taller and may have additional motors to control the seat, foot and backrest.
Recommended Lift Chair Features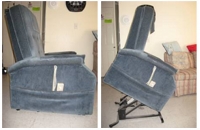 Sturdy: Make sure it is well made and sturdy.
Proper fit: Make sure to either have your loved one try it out in the store or measure for fit
Back up battery: So it can still operate when the electricity is out
Easy to use: If the senior has some cognitive issues, a simple up/down remote without the extra massage/heat functions is a better choice
Lift Chair Accessories
There are a few options available, including:
Massage - has massage pads built into the backrest
Heat - has heating pads in the seat and backrest
Dual motor - allows the feet and back to be adjusted separately
Small slide out tables - hidden away in the armrest and can be pulled out to rest book, etc.
Storage compartments - in armrest for TV changer, etc.
Larger chair side tables - Larger table for meals, laptop, etc.
How to Fit
There are three measurements that you will want to consider when purchasing a recliner lift chair.
Hip width - This will give you the approximate seat width
Thigh length - This will give you the approximate seat depth
Knee to floor - This will give you the approximate seat height
How to measure:
Have the senior wear their regular indoor shoes/slippers
Have them sit in a kitchen chair
Measure widest part of hip
Measure from lower back/bottom to back of knee
Measure from back of knee to floor
You can use a sewing measuring tape (soft) or use a string and measure against a yard stick or carpenter's measuring tape.
How to Use
The best way to set-up the recliner lift chair is to have the control fastened to the armrest as it can easily slide off and be out of reach for seniors.
An easy way to do this is to use velcro but there are other ways as well.
Some of the controls are difficult to read so I have labelled controls with simple up/down arrows.
The safest way to get in the recliner lift chair: Back up to the chair until the seat touches the back of the seniors knee and then reach back for arm rests and sit down. The seat should be high enough so that they are not falling down into it.
The best way to get out is to raise the chair up to where you can get out of it. Not too high or you may lose strength but also not too low that you struggle to get up.
How Much Do They Cost?
A good recliner lift chair can cost between $700-1500+ depending on fabric and features.
Like Caring-for-Aging-Parents.com?