Shoes for Elderly Women
Recommendations and A Buying Guide
Proper shoes for elderly women can reduce their falls risk, which is one of the leading causes of injury for older women.
A fall can cause an injury such as a hip or pelvis fracture which means months of rehabilitation therapy. It can even have long term affects to the senior's mobility.
But what makes a shoe safer and reduces the risk of falling?
Don't worry, a "safe" shoe doesn't necessarily have to be an ugly shoe! We aren't recommending everyone buy plain leather velcro strapped shoes.
We just want elderly to be aware that certain features available in regular shoes that can improve their walking safety.
The features that make shoes for elderly women safer are already incorporated into many fashionable shoes but they just don't go advertising that they have the safest shoe!
What Makes A Shoe Safe?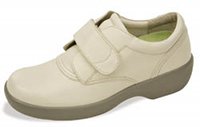 There are certain features you should look for in a shoe that makes it "safe" - reduces falls risk.
These include:
Heel (upper) - A firm heel collar to provide stability
Laces - Laces to ensure the shoe holds onto the foot while walking
Heel (bottom) - A bevelled heel to prevent slipping and a broad flared heel to maximize contact with the ground
Sole - A textured sole to prevent slipping
Midsole - A thin firm midsole so the wearer can feel the ground underneath
What Makes A Shoe Unsafe?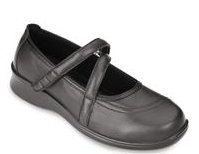 There are certain features that make shoes for elderly women unsafe (ie. put at risk for falling).
These include:
Heel (upper) - Soft or stretched uppers make the foot slide around in the shoe
High heels - High heels should be avoided as they impair stability when walking
Narrow heels - Narrow heels make the foot unstable and can cause ankle sprains
No Laces - Lack of laces means the foot can slide out of the shoe
Sole - Slippery or worn soles are a balance hazard, particularly in wet weather.
Good Footwear
Good shoes for elderly women provide:
Firm base
Cushioning
A Non Slip Sole
Ankle Support
Footwear Can Prevent Falls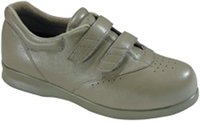 Recent research has found that good footwear can reduce the risk of falls in the elderly.
Researchers followed study participants for an average of 27.5 months. Almost 52 percent of participants who said they experienced a fall during that period were either barefoot (18 percent), wearing socks with no shoes (7 percent), or wearing slippers (27 percent) at the time.
Those individuals also suffered more serious consequences from their fall, including fractures, sprains, dislocations, or torn muscles.
A good pair of shoes for elderly women are not only comfortable but safer.
Tips For Buying A Shoe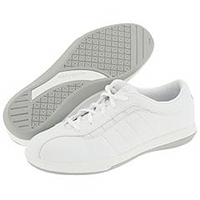 Remember To Bring:
Orthotics (if you use them)
Socks that you normally wear
Old shoes so the salesperson can look at the wear pattern (ex. worn on one side of shoe).
When To Shop:
Buy footwear in the afternoon when your foot is the largest
Sizing:
Shoes should fit snugly without being to tight
If your feet are different sizes, buy the size that fits the larger foot
There should be about 1/2 inch of room between your big toe and the end of the shoe when you are standing
Try shoes of different widths to get the correct fit
Shoe Features:
Toe - A wide deep toe are gives space for toes. Not enough space can lead to bunions, hammer toes, corns and calluses.
Heel (upper) - Should be firm enough so that you cannot squeeze it between thumb and fingers
Sole - This is the most important part of the shoe to reduce falls risk. Shoes with a greater contact area with the ground are more stable and provide more grip. Soles should be non slip but not sticky. They should not be too thick as it is difficult to feel the ground which can cause falls on uneven terrain.
Heel - A low slightly bevelled heel is preferred
Fastening - Shoes with velcro or lace are preferred and they improve stability and hold the shoe to the foot.
Lining - Lining will stretch to fit the shape of the foot. Lining should have few seams, especially over bony areas of the foot as these can cause irritation.
Material - A leather shoe will stretch over the foot and form to its shape. Leather can also be shaped to accommodate bunions or hammer toes.
Arch Support - There should be enough arch support for your type of foot to make it comfortable.
Tongue - Should be padded and easy to get the shoe on and off.
Walk around the store for 5-10 minutes to test the shoe's fit. Is there any rubbing or slipping? Are there any red areas on your feet when you take them off? This can be a sign of a poor fit.
Ask about return policies.
Like Caring-for-Aging-Parents.com?