Walk In Tub
Product Guide and Recommendations
A walk in tub improves the safety and quality of life of many elderly with mobility issues that have difficulty with conventional bathtubs.
A walk in tub provides a safe and easy way for seniors to bathe. Many people (seniors included) enjoy soaking in the bath tub.
Soaking in a tub is a relaxing, enjoyable activity. A walk in bathtub can make this activity safer and easier for seniors.
Most models have an inward swinging door, massage features and safety features such as grab bars and non slip surfaces.
In addition to improving the safety of bathing for seniors, a walk-in-tub can allow seniors to remain living in their current home.
Combined with other services and equipment, it can very easily delay (or even prevent) moving to a senior housing community.
Benefits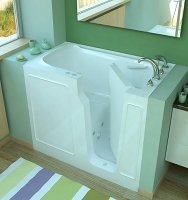 They are safer and easier to use than conventional bath tubs. They are designed to walk into, sit down, fill tub and wash/soak, drain tub and walk out.
They often have a hand held shower head, grab bars, jets and soap/shampoo holders. Some manufacturers also have a full bathtub/shower system so it can be used as a shower as well.
This makes it versatile for those who want to be able to bathe and shower without having to have both.
Who Should Use One?
They are a great idea for those with mobility issues (decreased strength, balance and endurance) who enjoy bathing as opposed to showering.
It is perfect for seniors that benefit from soaking in the tub as it relaxes their muscles, eases pains and is therapeutic.
Bath lifts used in a conventional tub are an alternative. However, they are not as ideal as most users cannot get as deep into the water as in a walk in tub.
Recommended Features
A good walk in tub will:
Fast drain features - Since the user must sit in the bathtub while it fills and drains.
Water capacity - Some water heaters are not large enough for large volumes of water, having a smaller model may be advantageous.
Step in height - An important aspect is the step-in height. Some models require lifting one's foot at least 7 inches to enter the bathtub, which defeats the purpose of having a walk in tub. Other models have a step in height that is only 2" off the floor.
Shower option - Which allows seniors and their house guests to use it like a regular shower
Grab bars - Many models have built in grab bars to prevent falls
Non slip surfaces - The bathtub floor as well as the top of the tub should be non slip as many seniors use the tub edge for support (and not the grab bars unfortunately)
Place to store soap and shampoo - Choose a model that has a place to store bathing items or else they will get in the way on the seat and possibly fall to bottom of tub making it difficult to retrieve.
Taps - Within easy reach of the seat for seniors of all heights and sizes
Fast filling taps - Obviously this also has to do with your water pressure but everything helps as the senior needs to sit and wait for the tub to fill while in the tub
Massage jets - A nice relaxing feature for a bathtub
Heater - This keeps the bath water hot while in the tub - it is not designed to heat water but prevent it from cooling off while bathing.
Inward vs Outward Swinging Doors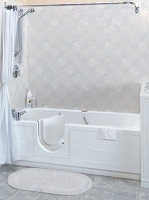 There are two door styles: inward swinging and outward swinging.
Inward Swinging Doors:
Cannot accidentally open an inward swinging door
The seal becomes more efficient as water fills the tub
The door does not come in contact with other bathroom amenities such as toilets, doors, etc.
There is no chance of water dripping off the door and onto the floor, causing a falls risk
Easier to close an inward swinging door as you do not have to reach outside of the tub area
Outward Swinging Doors:
Usually have smaller openings to lessen the force pushing out when the tub is filled with water
Usually more expensive as require stronger hinges, etc to support pressure from water when tub is filled
Can result in water dripping on floor after bath when door is open - which is a potential falls risk
Things to Consider Before Purchasing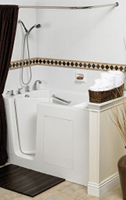 There are a few things to consider:
Hot Water Tank Capacity - Some of the bathtubs have large water requirements in order to fill. It's important to know how much hot water is available in the existing tank as it may affect which bathtub model you will purchase or if you will need to upgrade the hot water tank
Do you want to be able to shower? - Many bathtubs also have a tub surround and shower faucet that allows the bathtub to be used as a shower. This can be convenient for both seniors and their house guests.
Dimensions of bathroom - Will renovations need to take place or is there room for where an existing bathtub is currently located? This may determine how extensive of a project as well as if you should also consider upgrading other bathroom items such as a higher toilet and/or additional grab bars
How Much Do They Cost?
Walk in tubs can cost anywhere from $3000 to $15000, depending on the features of the tub and installation involved.
This will also increase the value of the home as well as potentially delay moving to a senior housing community (which can be very expensive).
Like Caring-for-Aging-Parents.com?