Birthday Gifts for Elderly
Information and Recommendations
Are you looking for birthday gifts for elderly? Is it your parents or grandparents birthday and you don't know what to get them?
Buying gifts for elderly can be challenging - you don't want to get flowers and chocolates again but you don't know what else would be appropriate.
Plus, birthdays are a special time of the year - especially when your loved one is 80, 90 or more!
We recently had a 90th birthday party for my Grandma. Family and friends from all over came to celebrate.
There were gifts of all shapes and sizes. Some of which made it into our gift recommendation list.
One gift she loves is her electronic picture frame. It's also a great conversation starter.
We loaded it with pictures of friends, family and from all times of her life.
Introduction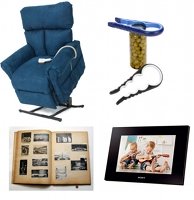 Birthday gifts for elderly are sometimes difficult to choose. Chocolates? Flowers? Books? There must be other ideas.
Many seniors I've met over the years appreciate gifts that are both functional and sentimental. Variety is great and if you can afford a couple birthday gifts for elderly at the same time - that's even better.
An example of both a sentimental and functional gift:
Sentimental - A photo album or electronic picture frame with photos of family and friends
Functional - Bathroom safety equipment such as a raised toilet seat.
Although functional gifts for seniors may seem boring, these items can be expensive and seniors may have difficulty purchasing on their own. Especially if they are on a fixed income.
Electronic Picture Frame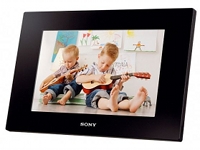 These are excellent birthday gifts for elderly. You load them with photos of family and friends as well as from their lives (vacations, kids growing up, etc).
My grandmother loves watching the slide show of photos. We load about hundred photos at a time and every so often we will change the photos so she has some variety.
It's a great conversation starter as well - for both us as well as visitors. Who's that? Where's that?
She lives in a senior community so she meets new residents who often visit. The picture frame is a good way of getting to know each other.
The price is also quite reasonable. You can get them for $50-100 at many stores - depending on the size of the screen and storage capacity (how many pictures if will store).
Just remember to load up the pictures for your loved one so they can enjoy it right away.
Bathroom Products for the Elderly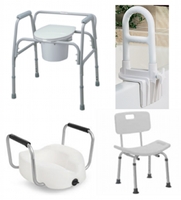 Another great gift idea is bathroom safety equipment. Many seniors are afraid of bathing/showering as they are scared of slipping or falling.
Peace of mind - for both you and your aging parents - can come from making their bathroom safer.
Depending on how your parents are doing, they could benefit from a raised toilet seat, bath seat, toilet safety frame, commode over toilet, bathtub bench or bath lift.
Walkers for Elderly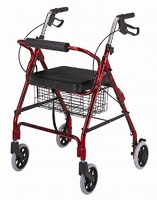 Walkers also make great birthday gifts for elderly. Many seniors could benefit from a walker but do not want to spend the money.
There is also a big difference between a lower priced walker and a high priced walker. It's like buying a car, do you buy the cheapest car or the one with the features you want and is of a higher quality.
I recommend purchasing a higher quality product because I think seniors are more likely to use them. They are designed better, have more features, you can often find replacement parts to repair them (unlike some discount brands) and they are simply nicer to use.
Time with Family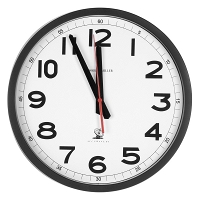 As silly as this sounds, many seniors want nothing more than time with their family. They often do not have many material needs above the basics.
What they treasure the most is time with family and friends.
In addition to gifts, spend time and connect with them. Buying an expensive birthday gifts for elderly is not going to make up for spending less time with them.
If you can't afford a gift, time is actually more valuable and they will truly be thankful.
Recliner Lift Chair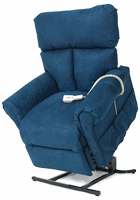 Another great birthday gifts for elderly is an electric lift chair.
These are recliner chairs that raise up into a standing position so the senior can safely stand up.
This gift is ideal for seniors who have difficulty getting up from chairs due to decreased strength or balance.
Scrapbook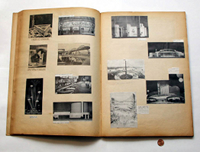 Everyone loves scrapbooks - both making them and looking through them. I recommend putting a scrapbook together for your aging parents so they can look through it - it makes an ideal coffee table book and conversation starter.
Make one with your siblings or your family. Get the grandchildren involved.
Pick a theme. Friends and family. Their life from when they were young to now. Their vacations.
Many seniors cherish their memories - even if they're starting to lose their memories. Pictures can bring emotions and feelings back about past experiences.
Plan ahead for this gift as you may need to ask friends and family for pictures and souvenirs. Maybe someone has an old ticket stub or flyer from their childhood. You might even have to ask to see their photos and sort through them.
I recommend making copies of the photos you do use - it's easy and you'll have 2 copies in case something happens to the ones in the scrapbook.
Chair Lift for Stairs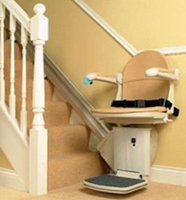 I understand this is a large and expensive birthday gifts for elderly but for some adult children, they might be in a position to really change their parents lives with this gift.
Most seniors want to stay in their own home for as long as possible. For many, this means they will need to go up and down stairs.
Some seniors can live on their on the main floor (bedroom, bathroom, kitchen and living room). However, this leaves the rest of the house inaccessible if the senior cannot safely go up and down stairs.
Chair lift for stairs solve this problem. It can be installed in almost any stairway and allows seniors the freedom to access different levels of their home safely.
They are relatively expensive but so is moving to a new home that does not have stairs. I recommend having friends and family contribute to a big gift such as this. It would make a dramatic improvement in the lives of your aging parents if they could access more of their home.
Maybe your Mom has a sewing room downstairs? Or Dad has a workshop? Or laundry? Or a freezer or cold room?
Cooking/Kitchen Aids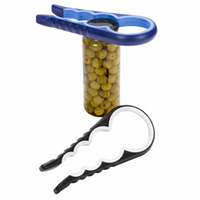 Many seniors love to cook - both men and women. Sometimes it's difficult to use traditional kitchen equipment but there are solutions.
There are easy to use can openers, jar openers, jug pourers and many others.
The best place to start is your local medical supply store. They often have the more common items and can always order in more specialized items.
Simply ask if there is anything that makes working in the kitchen easier.
Elderly Medical Alert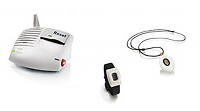 This is one of the best gifts for seniors living alone and are at risk of falling.
It gives your aging parent - and you - peace of mind. They simply wear a necklace pendant or a wrist bracelet - both of which have a button that they push in case of an emergency.
The reason I recommend this as a birthday gifts for elderly is because many seniors are on a fixed income and cannot afford the extra monthly fee.
They do not want to ask their family and friends for assistance paying for it so they go without. I've worked with seniors who have fallen and could not get to a phone for help - waiting sometimes hours before a neighbour or family member stops by and finds them on the floor.
Homemade Treat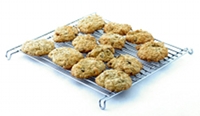 Last but certainly not least - and my personal favourite birthday gifts for elderly - is homemade treats.
Home made jam, bread, cookies, cake and anything and everything else home made.
Many seniors do not bake anymore - although there are kitchen aids that can help them do it.
Maybe they live in a senior community and do not have their own kitchen but instead, go to a common dining room for their meals.
Do they have a favourite recipe? Did they always make a certain cake or cookies growing up? Make them that!
Like Caring-for-Aging-Parents.com?