Power Wheelchair Accessories
Recommendations and Resources
Power wheelchair accessories can make motorized wheelchairs safer, more convenient and easier to use.
Every senior is different in terms of which accessories they prefer.
Cup holders make carrying a drink easier. Oxygen tank holders safely secure oxygen to the motorized wheelchair.
Cushions and backrests can be added that improve comfort, positioning and can reduce the risk of skin breakdown.
Joystick programming can allow seniors to drive straighter and not have to worry about their hand tremor or from going too fast (by regulating the top speed).
Wheelchair bags are necessary for carrying items small and large.
Joystick Control Programming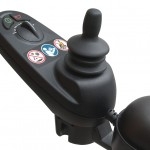 This is not necessarily an accessory and more a feature but it's worth discussing.
There is a feature on many motorized wheelchairs that allows it to be programmed to make it easier to use.
For example, many models have the ability to:
Allow the senior to drive in a straight line easier without having to constantly re-adjust
Compensate/dampen the controls so they are not too sensitive. This is very useful for elderly with hand tremors.
Tilt/Recline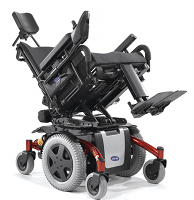 Tilt and recline features are great for elderly who need extra support and positioning.
They are effective at reducing the risk of skin breakdown as they can more evenly distribute weight when used properly.
There are controlled by the joystick and powered by an electric motor.
Elderly who get drowsy during the day can use the tilt/recline feature to position themselves so they can rest more easily and not have to transfer into their bed.
Cushions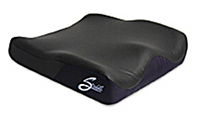 One of the most recommended power wheelchair accessories is a cushion.
A good cushion is necessary for both comfort as well as to reduce the risk of skin breakdown.
High quality cushions are made from gel, air and/or foam. They can range from $100 - 600 depending on the quality and features.
Backrests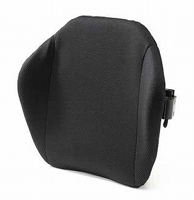 Depending on the senior's needs, they may benefit from a simple backrest to a more advanced custom made backrest that can support them more effectively.
A good backrest (and cushion) can dramatically improve the comfort of the motorized wheelchair - allowing elderly to comfortably sit in them for long periods of time.
For example, going out in the community for shopping can take several hours and being comfortable will allow them to enjoy their time and not be wishing to go home to lay in bed.
Headrests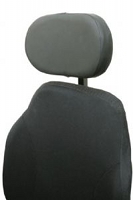 A headrest is necessary when the wheelchair has tilt/recline as the senior's head needs to be well supported.
Much like backrests and cushions, they come in a wide variety of styles and designs - depending on the needs of the senior.
They can also be beneficially for active users who drive outside and will be bouncing around a little bit.
Headrests can make the wheelchair more comfortable and can prevent neck injuries (much like in a car).
Calf Supports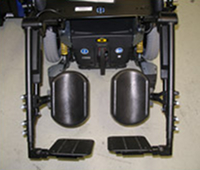 Calf supports are also power wheelchair accessories that are needed if the wheelchair has tilt/recline.
When the wheelchair is tilted/reclined, the senior's legs can fall off the back of footrests.
This can cause the back of their legs to push against the front of the seat and can sometimes result in nerve damage.
A simple calf support can prevent injury and improves comfort.
Bags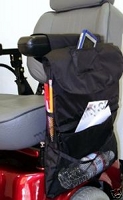 Bags are very useful power wheelchair accessories as they allow seniors to carry items securely and easily.
There are a wide variety of styles and designs. It's nice to have one within reach of the senior for small items such as money or lipstick.
It can also be helpful to have a backpack style bag on the back of the chair to carry larger items.
Power wheelchair accessories - such as bags - can make using a motorized wheelchair easier and more convenient.
Trays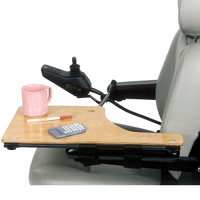 Trays can be useful power wheelchair accessories - especially for those that want to have always have a place to write or put food/drinks.
They are much like a built in coffee table or TV tray. They can carry items that you want immediate access to.
Maybe your elderly parent likes to attend classes (such as art or history). With a tray they can easily take notes, put their drink down and not have to worry about trying to use a table (which may be too low or blocked by chairs).
Cup Holders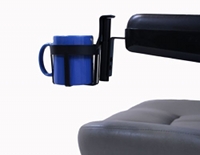 The best way to carry a drink is with a cup holder.
Some elderly try to carry water bottles and other drink containers in a bag or along the side of their seat. This can lead to spilling on both the chair and the senior.
A cup holder on a wheelchair is just like a good cup holder in a car - simple but necessary.
Oxygen Tank Holders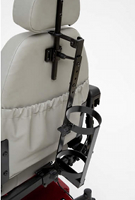 For elderly who use oxygen, this is one of the must have power wheelchair accessories as it safely and securely carries an oxygen tank.
This is a far safer alternative than to carry an oxygen tank in a regular wheelchair bag.
Most tank holders carry the tank on the back of the chair, which keeps it out of the way and minimizes the affect it has on the handling of the wheelchair.
Types of Wheelchairs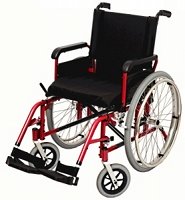 There are several other wheelchair types including:
Like Caring-for-Aging-Parents.com?