Ceiling Lift
Best Models, Recommendations and Buying Guide
Information And Advice To Help You Choose The Best Ceiling Lift
A ceiling lift is designed for elderly who cannot transfer on their own due to decreased strength, balance or coordination.
There is a track mounted on the ceiling (or a portable system uses 2 posts to suspend the track) with a battery powered motor that lifts the senior in a sling.
They allow the senior to move between hospital bed, wheelchair and commode.
Some seniors just use a simple 2 post portable system over their bed to transfer between bed, wheelchair and commode.
Others have a more extensive track going from bed to bathroom - over toilet and over bathtub.
This allows them to use the bathroom and to access a bathtub.
Read more below to determine if a ceiling lift would help your elderly parents.
Who Should Use?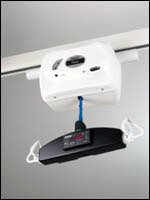 Ceiling lifts are designed for seniors who are not transfer between pieces of furniture or equipment - such as between bed and wheelchair.
This can be due to weakness, pain, decreased coordination as well as other health issues.
For the most part, it is better for the senior to transfer on their own (or with some assistance) than to use a mechanical lift. That way they can maintain (or even improve) their strength.
However, this is not always possible and thus a ceiling lift is needed.
They are commonly set-up in the bedroom over the bed and used to transfer between bed, wheelchair and commode.
Note: Lifts are also used to prevent injury to caregivers. Back and neck injuries can occur when transferring someone that needs moderate to maximum assistance without a lift.
Recommended Features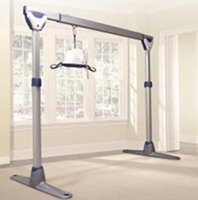 A good ceiling lift will include:
Easy to use - Simple controls (some just have on/off and up/down - which is all you really need)
Weight capacity - Make sure the senior is within the weight capacity of the lift
Long enough track - If it is a permanent track installed on the ceiling, make sure you have enough room beside bed to put wheelchair and commode
If a 2 post lift - Make sure it has wide bases and the track is long enough to fit both bed and wheelchair (or commode) under
Slings - The most common sling is a universal sling and it has 4 or 6 loops that attach to the lift. Each loop may have different colored sections that let you choose a seated or lying down position. Make sure each side is using the same loop section or the senior will be leaning to one side (which is not safe)
How to Use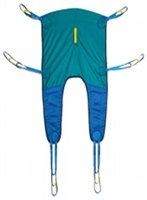 Ceiling lifts are easy to use but it does take practice to get used to setting up the sling the senior sits in.
How to Use Sling (while senior is lying in bed):
Have senior roll onto side
Tuck sling under making sure it is oriented properly (ie. head of sling near head of senior)
Have senior roll to the other side
Pull rest of sling out so senior can roll onto back and be lying on the sling
How to Use Lift: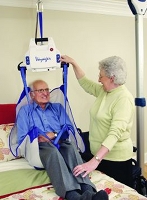 Lower lift
Connect loops of sling to lift
You can attach loops several different ways - most common is to cross over the bottom loops to opposite side of lift. This prevents senior from slipping out the bottom of the sling
Raise senior until just off the bed
Check to make sure loops are securely attached to lift and senior is not tangled in sling loops or sling is not causing pain
Lift senior up so that he/she can move freely side to side
Move senior over commode or wheelchair
Lower and make sure they are properly seated
One trick is to push their knees so their backside is sitting properly
Remove loops from lift and tuck sling into wheelchair or commode
Check skin frequently to ensure sling is not causing skin irritation or breakdown
When ready to return to bed - reverse process
Things to Consider Before Purchasing Lift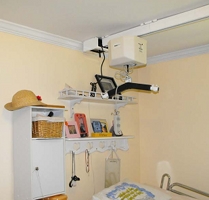 There are several things to think about when purchasing a ceiling track lift:
Are they not able to transfer themselves? If not, a ceiling track is probably their best solution
If they can transfer, is the caregiver at risk of back or neck injury?
Have other solutions been tried such as a floor to ceiling transfer pole? bedrail? hospital bed?
Do you need this long term? Permanently installed ceiling lifts take up less room than portable 2 post lifts.
Does the senior need to access the bathroom or can they sponge bathe in bed or have a bath/shower at a community bathing program?
Where to put the lift? In the existing bedroom or maybe convert the living room into a bedroom to allow more room or more social contact for senior.
Installation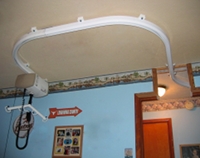 Ceiling Lift System: (Permanent)
Permanently installed into ceiling joists.
Track can be any length and can even have curves
Great long term option as you could have track go all the way over toilet and shower/bath - depending on home design
No posts to get in the way
2 Post Lift System: (Portable)
Portable
Smaller track but not permanently installed into ceiling
Typical installation is over a bed to transfer between bed, wheelchair and commode
A second 2 post lift system could be installed in the living room to transfer into recliner chair. It is also possible to use the same electric motor for both which saves money but is less convenient.
Great short term solution and is both easier and safer to use than hoyer lifts.
How Much Do They Cost?
A ceiling lift system can cost between $1500 -+$5000 depending on the track length and installation needed.
It is possible to rent a 2 post lift system from a medical supply store for short term use.
Other Types of Lifts
There are a number of other lifts that can move seniors in their home:
Hoyer Lift - A portable lift that can be used to move a senior between furniture/equipment. Requires use of a sling and can be manual or battery powered.
Bathtub Lifts - Allows seniors to bathe safely as it raises/lowers them into a bathtub. Battery or water powered.
Pool Lift - Allows seniors to safely enter/exit a pool.
Like Caring-for-Aging-Parents.com?