Hoyer Lift
Product Guide and Recommendations
A hoyer lift is a portable floor lift designed to move seniors between furniture and equipment.
They can be manual or battery powered and require the senior to lie/sit in a sling - which is then lifted with the lift.
They are great for seniors who cannot transfer themselves and/or they need assistance which puts the caregiver at risk of injury.
An alternative to this type of lift is a ceiling lift but they can be more expensive and are not as versatile.
However, they are safer and hoyer lifts can be difficult - if not impossible - to use on carpet.
Read more below to determine if this type of lift would be helpful for the elderly in your life.
Who Should Use?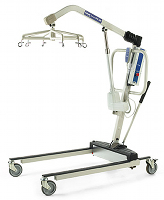 A hoyer lift was designed for elderly who cannot safely transfer themselves between equipment and furniture (wheelchair, bed, toilet, commode)
It requires a caregiver to operate - which can be manual or battery operated.
They not only allow elderly to move between furniture but also reduce risk of injury for caregivers.
An alternative lift is a ceiling lift. It is not as versatile - only goes as far as the track - but is easier and safer to use.
These lifts are also difficult to use on carpet.
The advantage of this type of lift is you can use it to transfer a senior between almost all surfaces such as toilet, bath, living room chair and many other locations in the home.
Recommended Features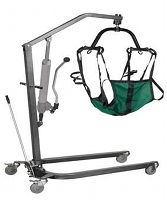 A good hoyer lift will:
Battery powered - Much more convenient to use and caregiving is already physically demanding. This includes powering the leg stance as well as the lift function.
Universal sling - Most versatile and one of the easier slings to use is the universal sling.
Larger casters - Larger casters will roll more easily over carpet and transitions between flooring types.
Weight capacity - Make sure the senior does not exceed the weight capacity
Leg width adjustment - Allows the user to widen the leg stance so it is more stable.
How to Use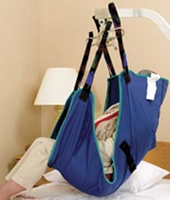 This lift requires use of a sling as well as the lift.
How to Use Sling:
Have senior roll onto side while placing sling under their body
Have senior roll to the other side and pull rest of sling so they will not be lying in it
Have senior roll onto back and check that they are lying in correct position within sling
How to Use Lift:
Attach sling loops - make sure loops are even on each side
Use controls to lift senior up till they are barely touching the surface
Check that all loops are secure and sling is not causing senior pain
Raise senior until they clear edge of furniture
Rotate senior so they are facing vertical part of lift
Widen legs if possible
Roll to desired location
Position over furniture or wheelchair
Slowly lower and make sure senior's bottom is in proper position - sometimes helps to push knees back while lowering
Once lowered, tuck sling in and out of way
Check skin periodically for redness or other signs of skin irritation/breakdown
When ready to use lift, reverse process.
Refer to owner's manual as each model is slightly different but this gives you the basic idea as to what is involved in using a hoyer lift.
Things to Consider Before Purchasing Lift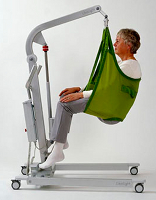 There are several things to think about before buying a hoyer lift:
Powered - Do you want battery powered? I recommend this if you can afford it as caregiving is already physically demanding
Flooring - Do you have carpet? It is more difficult to use this lift on carpet
Doorway width - If you plan on using lift to move senior within home and need to go through doorways - you will need to make sure it fits
Sling - There are several different types of slings - I recommend using a universal sling as they are more versatile and easy to use
Castor size - I recommend larger wheels as they roll more easily over different types of flooring.
Short or long term - Is this for short term or long term use? Have you considered a ceiling lift? They each have advantages and disadvantages.
How Much Do They Cost?
A manual hoyer lift cost ~$500 and a battery powered lift costs +$1500.
I recommend a battery powered lift as they are much easier to work with and caregiving is already physically demanding.
Other Types of Lifts
There are a number of other lifts that can move seniors:
Ceiling Lift - A ceiling lift can be used with a sling to move a senior between furniture/equipment. Requires use of a sling and are battery powered.
Bathtub Lifts - Allows seniors to bathe safely as it raises/lowers them into a bathtub. Battery or water powered.
Pool Lift - Allows seniors to safely enter/exit a pool.
Like Caring-for-Aging-Parents.com?