Pool Lift
Product Guide and Recommendations
A pool lift is designed for elderly who need assistance accessing a pool (ie. they cannot use the ladder or steps).
In the photos below, you will see that they are located near the edge of the pool and the senior is lowered into the pool in a chair.
They are great for elderly who have difficulty with stairs or ladders due to decreased strength, pain, endurance and many other health issues.
Water activity is very beneficial for a senior's health - both physical and emotional well-being.
Water can relieve pain and promote movement as the water supports the senior - taking some of the stress off their joints.
Read more below to determine if a pool lift would be helpful for the elderly in your life.
Who Should Use?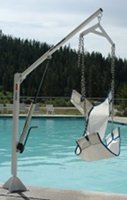 A pool lift is designed for elderly who cannot safely enter/exit a pool using the existing ladder or stairs.
Using a pool - even for walking - has health benefits and is enjoyable.
The buoyancy of the water can alleviate joint pain which is a common compliant amongst seniors (hip/knee pain).
Pool therapy can speed recovery from injury or post surgery - such as hip or knee replacements.
Staying active and continuing to do hobbies and interests is important both for physical and emotional well-being.
Recommended Features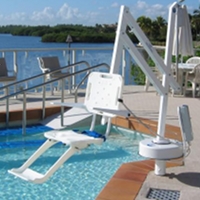 A good pool lift will:
Battery or water powered - Are easier and more convenient than manual models.
Weather proof - This is especially important in extreme climates such as intense sun in summer and snow/rain in winter.
Weight capacity - Make sure your elderly parents are under the weight limit.
Sturdy - Either fixed in place or have enough counterweight to securely operate (if portable style)
Foot and arm rests - They should flip up and out of the way when getting on/off chair. This makes it safer and more comfortable to use.
How to Use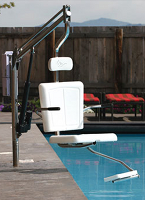 Pool lifts are easy to use. The most common style uses a chair to transfer the senior into the pool.
Chair Lift:
Sit in chair
Feet on footrests
Use controls to lower chair into pool (usually swivels around pole while descending into pool)
Get off chair and use controls to put lift back on deck and out of the way
When ready to get out - use controls to bring chair back into pool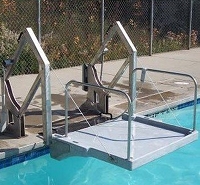 Wheelchair Lift:
Similar to chair style but client will roll onto platform using a waterproof wheelchair
They will lock their brakes and then use controls to lower into pool
They can then roll into pool - of course this is only used in shallow pools and the senior will need to be careful
Wearing a life jacket is recommended for seniors who are not good swimmers or have health issues that can affect their swimming ability.
Things to Consider Before Purchasing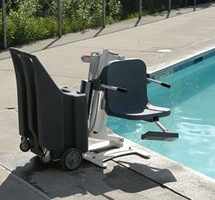 There are several things to consider before purchasing:
Permanent or portable - Do you need a portable or permanent lift? A portable unit may be better for storing during winter (if applicable)
Power - Either battery or water powered.
Chair or sling - There are both chair or sling styles. Chairs are more convenient.
Wheelchair use - Will anyone with a wheelchair need to use it?
Location - Recommend it not be in a location where it is more than 4 feet deep
Deck area - Make sure deck is clear so there is enough room around lift location for walker or wheelchair.
Seat height and width - Make sure the senior will be comfortable
Weight capacity - Make sure senior is within weight limits
Footrests and armrests - Some do not have one or both.
Call/send station - Controls should be available to move lift into position from pool and deck
Submerged depth - Make sure it can lower the senior deep enough into the water so they can easily swim/step off
Seat height - Make sure the seat height is not too low or high when on deck
How Much Do They Cost?
A pool lift costs ~$4000 and up - depending on the style, installation and features needed.
Other Types of Lifts
There are a number of other lifts that can move seniors:
Ceiling Lift - A ceiling lift can be used with a sling to move a senior between furniture/equipment. Requires use of a sling and are battery powered.
Bathtub Lifts - Allows seniors to bathe safely as it raises/lowers them into a bathtub. Battery or water powered.
Hoyer Lift - A portable wheeled lift which can be used to transfer seniors between equipment/furniture. They are either manual or battery powered and require use of a sling.
Like Caring-for-Aging-Parents.com?