Personal Elevators
Product Guide and Recommendations
Personal elevators can allow your elderly parents to remain living in their current multi level home - which is a common wish for many seniors.
Most homes have several levels and although seniors could potentially live on one level - they will likely want to access other parts of their home such as a laundry room, sewing room, workshop and/or TV room.
They are great for elderly who have difficulty with stairs and use a walker or wheelchair.
Although the initial cost can be expensive, they can actually be more affordable than moving to another home with no stairs or to a senior housing community.
Moving to a new home and community is also stressful and can disrupt your parents social life and sense of belonging.
Read more below to determine if a personal elevator would help your elderly parents.
Who Should Use?
There are many benefits to having an elevator, including:
Creates an accessible home for your parents, friends, family and future owners
Eliminates the need to move because of difficulty climbing stairs
Makes your parents safer
Allows your parents to conserve energy for activities they enjoy doing
Increases value of home
Most models are maintenance free
Are beneficial for all users... moving laundry or groceries between floors
Versatile as can be used by seniors who use wheelchairs and walkers
Personal elevators are also called residential lifts or elevators.
Recommended Features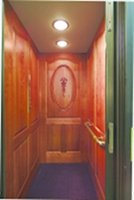 Good personal elevators will have the following features:
Easy to use controls - Simple easy to use controls.
Call send stations - These allow the lift to be brought down to the user at the top/bottom of the stairs (if it was left at the other side)
Emergency stop switch/sensors - These automatically stop the wheelchair stair lift if it come in contact with an object.
Safety features - Will not start unless safety checks are in place (door closed, etc).
Manual mode - This allows the lift to be operated if the power goes out and there is no battery back-up.
Weight capacity - Make sure it is designed for the weight of the users.
Battery back-up - So seniors can still use the lift even if the power is off.
Soft start/stop - Ensures a smooth start and stop.
How to Use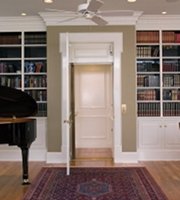 Personal elevators are easy to use:
Make sure lift is in position and open
Roll onto the lift and put brakes on wheelchair or walker (if applicable)
Close door
Use controls to move lift
Ride lift to intended level of house
Open door and unlock brakes
Walk or roll off
Close door
Things to Consider Before Purchasing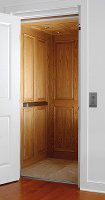 There are a number of things to consider before purchasing personal elevators, including:
They can travel vertically 1-2 levels (~ up to 50ft)
Most cities do not require a license for a residential lift
Styles range from open platforms to fully enclosed cabins with safety gates
When building a new home, consider stacking closets above each other on various floors. This would allow installation with minimal modification of the homes structure.
Easier to use than a stair lift. A stair lift consists of a seat which travels up/down the stairway on a track.
More versatile than a chair lift or wheelchair lift as individuals of all abilities can use it.
There are wide range of styles for gates, doors, lighting and interior finishing.
There are several types of personal elevators: chain hydraulic, cable hydraulic and vacuum lift
Some have a feature that automatically lowers the elevator to the next lower level in case of a power outage
Some require a pit - other do not.
Installation/Maintenance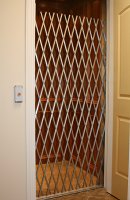 Things to consider regarding the installation of personal elevators:
Some require a pit - Maybe only 8" deep but some do require a pit below the elevator
Some require a machine room - which can take up more space
Require modest maintenance of ~$400/year
Can be made to look like any other door (closet, bedroom etc) so it blends in with the rest of the house
Weight capacity is between 750-900 lbs
Most require room above the elevator cabin on the top floor
A phone line will also need to be wired to the elevator
How Much Do They Cost?
Elevators can cost $25,000+. This may be expensive but so is moving to a senior living community and an elevator will add value to the home.
Chair lifts and wheelchair lifts are less expensive but are not as versatile. An elevator can be used by seniors with wheelchairs, walkers and even to move other items such as groceries and laundry.
Other Types of Lifts
There are a number of other lifts that can move seniors between levels of their home:
Chair Lift for Stairs - A fairly common lift for elderly where the senior sits in a chair that moves up/down along a rail in the staircase. The senior will need to be able to transfer to a chair to use this safely.
Wheelchair Stair Lift - Similar to a chair lift but has a ramp to allow use by seniors who use a wheelchair (or scooter). Some also have a fold down seat so seniors who walk can use it.
Wheelchair Platform Lift (Porch Lift) - A platform that moves vertically to carry seniors between levels - as opposed to following the stairs. Commonly used at entrances and also called porch lifts.
Like Caring-for-Aging-Parents.com?