Wheelchair Platform Lift
Product Guide and Recommendations
A wheelchair platform lift (also called a porch lift) is a lift commonly used at house entrances as an alternative to ramps.
There may not be room for a long ramp or a ramp may be more expensive (because of home design).
Although they are primarily for elderly using wheelchairs, some seniors could use them with a walker.
Whereas a chair lift for stairs moves with the incline of the stairs, a wheelchair vertical lift can move seniors vertically 3" - 12".
The main benefit is that they can allow your elderly parents to remain in their own home for longer.
Staying at home is both financial responsible (seniors housing is expensive) and most seniors want to remain in their own home for as long as they can.
Who Should Use?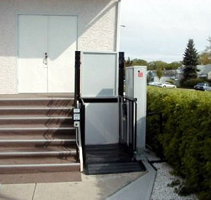 Wheelchair platform lifts are great for elderly who use a wheelchair and live in a home with stairs at the entranceway.
Ramps should have a 1:12 ratio to maintain a moderate slope - which can make them quite long if there are 3-4 steps of height.
In addition, it can be difficult for seniors to get up a ramp in a wheelchair.
A wheelchair platform lift can also be sold after it is no longer needed - whereas a ramp is usually custom made and does not have as much value.
Recommended Features
Wheelchair platform lifts should have:
Easy to operate - Simple easy to use controls
Weather proof - It should be durable for year round use
Safety features - Key operated, safety gate and touch sensitive sensors to prevent injury or damage underneath
Call/send switches - Let you operate the lift to bring it up to your level or send it down
Battery backup - Allows use during a power outage.
Manual lowering Allows for manual lowering in case of power outage or electrical motor problems.
There are also portable porch lifts for short term use. Some medical supply stores will rent these lifts which are convenient for seniors who only need it for a short period. For example, they need to use a wheelchair for a few months due to surgery.
How to Use
Porch lifts are easy to use:
Make sure lift is at right level (ie. on same level as senior)
Open gate
Roll on and insert key
Close gate and use controls to move up or down
Remove key and open gate
Roll off and close gate
Things to Consider Before Purchasing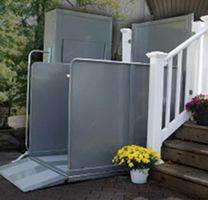 There are a few things to consider before purchasing a vertical platform lift.
Lift height - You will need to know the lift height. If you are within inches of a smaller size (and thus less expensive), you could have a thicker cement pad.
Platform size - Make sure the wheelchair, scooter, etc will fit on the platform.
Weight capacity - Make sure the weight capacity is appropriate. Include weight of wheelchair or scooter as these can be quite heavy.
Drive mechanism - There are two main types: screw drives and hydraulic drives. Screw drives are more affordable but cannot be used with a battery backup. Hydraulic drives are more expensive, more complex but can be used with a battery backup.
Installation
Wheelchair porch lifts will need to be installed on a concrete slab.
It is best to have it covered so the weather does not affect it as much (rain, snow, sun) but not essential.
It is also a good idea to have both the top and bottom be closed with gates to prevent injury. This is especially important when the lift is at the lowest position - have a potential drop from the upper level.
I have also seen them installed in garages that have 3-5 steps to entrance. A ramp would have needed to be quite large, a platform lift has a small platform and was easy to install and out of the weather.
How Much Do They Cost?
Wheelchair platform lifts cost around $3000 - depending on lift height, weight capacity and other features.
You can purchase used wheelchair lifts which would be more affordable (but may not have warranty, etc)
Other Types of Lifts
There are a number of other lifts that can move elderly between levels of their home:
Chair Lift for Stairs - Similar to a wheelchair stair lift but instead of a platform for the wheelchair, it has a seat. The senior will need to be able to transfer to a chair to use this safely. They will also need an additional mobility device (walker, wheelchair) for the other level (if needed).
Personal Elevators - A residential elevator that can move seniors between 2-4 floors. More flexible solution to move people and items between floors than stair lifts.
Wheelchair Stair Lift - A platform that follows the same path as the staircase to carry seniors between levels.
Like Caring-for-Aging-Parents.com?