Wheelchair Stair Lift
Product Guide and Recommendations
A wheelchair stair lift is an electric and/or battery powered lift that is installed in the stairway of home and can allow elderly to safely move between floors.
They are also referred to as incline wheelchair lifts.
Although they are primarily for elderly using wheelchairs, some models have a fold down seat so they can be used by those who are walking.
Whereas a chair lift for stairs requires the senior be able to transfer to a seat, the senior can use it while remaining seated in their wheelchair.
There are models for both straight and curved stairways although lifts for curved stairways are more expensive.
Wheelchair stair lifts can allow your elderly parents to remain in their own multi level home for longer - which can save money as senior housing can be fairly expensive.
Who Should Use?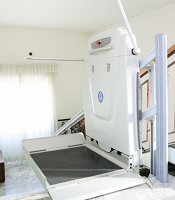 Elderly who use a wheelchair as their primary means of moving around and live in a multi level home will benefit from a wheelchair stair lift.
Although they may not have to access other areas of their home, it's important for their sense of freedom and independence.
Living on one floor can be challenging, especially if they are used to spending time on other floors of the house. Such as a sewing room, living room or bedroom.
They can travel 1-2 levels depending on the design of the staircase.
Although they are mainly used by seniors who use wheelchairs, they can also be used by elderly with scooters and some even have fold down seats for seniors who walk. This makes them more versatile than chair lift for stairs.
Recommended Features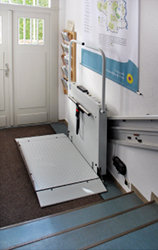 A good wheelchair stair lift will have the following features:
Easy to use controls - Simple easy to use controls. Usually involves a joystick and buttons.
Easy to operate guard railing - Easy to use and move railing.
Folds up flat against wall - Can be folded up against wall to allow normal use of stairway.
Hinged rails - These allow the rail to be folded up at the top or bottom where it may get in the way with a door or walkway.
Call send stations - These allow the lift to be brought down to the user at the top/bottom of the stairs (if it was left at the other side)
Emergency stop switch/sensors - These automatically stop the wheelchair stair lift if it come in contact with an object.
Safety features - Will not start without the railings down and ramp edges folded up.
Manual mode - This allows the lift to be operated if the power goes out and there is no battery back-up.
Weight capacity - Make sure it is designed for the weight of the users.
Battery back-up - So seniors can still use the lift even if the power is off.
Built in seat - Some models have a fold down seat so seniors who do not use a wheelchair can still use the lift.
Soft start/stop - Ensures a smooth start and stop.
How to Use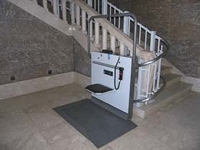 Wheelchair stair lifts are easy to use.
Make sure lift is in position and open (railings up and ramp folded down)
Roll onto the lift and put brakes on
Move railing into position which also folds ramp edges up
Use controls to move lift
Ride lift to intended level of house
Ramp folds down
Railing moves out of way
Roll off
Fold up lift so it's against wall (rails tucked in and ramp folded up)
Things to Consider Before Purchasing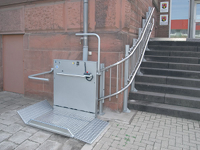 There are a number of things to consider before purchasing a wheelchair stair lift, including:
Space - Is there enough room at top and bottom for lift/ramp (approximately 5-7 ft needed)
Load bearing wall - Lift needs to be installed onto a load bearing wall
Stair width - Stairway width needs to be at least 36" wide
Push onto ramp - If senior is using a regular wheelchair (ie. not powered), are they (or their caregiver/spouse) able to push onto the ramp
Head room - Is there enough head room? Some older stairways do not have adequate head room - especially if they are steep
Weight of users - Needs to meet the weight capacity
Dimensions of senior's wheelchair/scooter - Needs to be able to fit on ramp
Stairway incline - The steepness needs to be between 10-50 degrees - depending on the model.
Battery vs wired into home - With the advances in battery technology, most prefer the battery operated stair lifts as they can be used even when the power is out. The charger simply plugs into an existing electrical outlet.
Ramp dimensions - It's good to know the dimensions of the lift when it is in use and when it is folded up. This way you know how much room will be left for other stairway users.
Indoor or outdoor - There are models designed for indoor or outdoor use.
Installation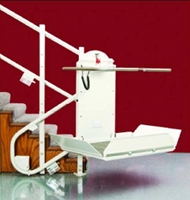 There are wheelchair stair lifts designed for either indoor or outdoor use.
They can be installed in an existing stairway of a house with all types of flooring (carpet, wood, linoleum).
The stairs can still be used normally as the lift folds up against the wall.
They are installed onto the wall and some have an option of being installed to their own post system.
They can be installed on straight or curved stairways, although curved stairways are more expensive.
It can be installed in a few hours and are installed above the floor (ie. no pit needed).
How Much Do They Cost?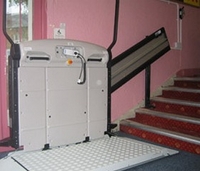 Wheelchair stair lifts can cost between $5000 to over $15,000.
The longer the track length and the more curves involved, the more expensive the lift will be.
The most affordable wheelchair stair lifts will be for short straight stairways.
They are more affordable than elevators but more expensive than chair lifts for stairs (although some seniors cannot safely use chair lifts).
Other Types of Lifts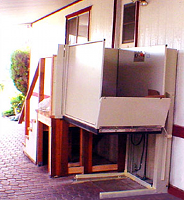 There are a number of other lifts that can move seniors between levels of their home:
Chair Lift for Stairs - Similar to a wheelchair stair lift but instead of a platform for the wheelchair, it has a seat. The senior will need to be able to transfer to a chair to use this safely. They will also need an additional mobility device (walker, wheelchair) for the other level (if needed).
Personal Elevators - A personal elevator can move seniors between 2-4 floors. More flexible solution to move people and items between floors than stair lifts.
Wheelchair Platform Lift (Porch Lift) - A platform that moves vertically to carry seniors between levels - as opposed to following the stairs. Also referred to as porch lifts as they are commonly used at entrances
Like Caring-for-Aging-Parents.com?