Scooter Carrier
Product Guide and Recommendations
A scooter carrier is great for elderly with seniors who want to bring their scooter to places that are outside of their neighbourhood.
Instead of being limited to the area around their home, they can bring their scooter on the back of a car or truck and use it at the mall, park or even when they go traveling.
Scooters allow many elderly to enjoy life and activities that they would not be able to do if they had to walk.
The carrier is easy to use and it does not take long for a scooter to be loaded or unloaded.
Most models also allow access to the car or trucks trunk.
Read more below to determine if a scooter carrier would be helpful for the elderly in your life.
Who Should Use?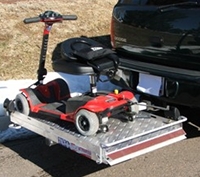 Elderly that have a scooter (or motorized wheelchair), a vehicle with a hitch and either drive themselves or have a family member or spouse that drives.
They allow elderly to be independent and active - not limited to using their scooter in their own neighbourhood.
Being able to enjoy activities in the community is important for the senior's physical and emotional health.
Recommended Features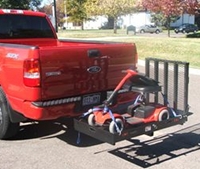 A good scooter carrier will have:
Fold down ramp
Safety reflectors
Weatherproof
Treated to prevent rust
Eyelets for strapping scooter to rack
Platform large enough for scooter (and/or power wheelchair)
How to Use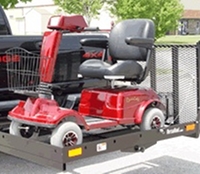 They are easy to use.
Mount as per instructions
Lower ramp
Drive scooter onto platform (better to walk beside than be sitting on it)
Strap scooter to rack
Fold up and secure ramp
Drive and unload at destination
Things to Consider Before Purchasing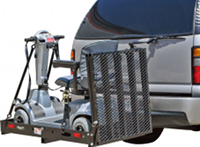 There are a few things to consider when purchasing:
Weight capacity - Make sure it is enough to carry scooter or power wheelchair
Safety reflectors - Always good to have both side and rear reflectors so other drivers can see the rack
Tie down points - Have at least 4 tie down points to secure scooter to rack (and also tarp if needed)
Fold down ramp - Makes it easier to load/unload
Licence plate is still visible - If possible, it is best to keep the licence plate visible (it might even be a motor vehicle requirement depending on country/state/province)
Driver visibility - Make sure the driver can still see behind vehicle and it does not obstruct the view too much
How Much Do They Cost?
A scooter carrier costs as little as $250 and upwards of $600 depending on quality and weight capacity.
There are also racks that can carry motorcycles and other items which are heavier (and thus require more solid construction).
Other Types of Lifts
There are a number of other lifts that can helpful for seniors:
Wheelchair Lifts for Vans - Allows seniors to access a van in their wheelchair or small scooter. Perfect for elderly who use a wheelchair and have difficulty transferring into a regular vehicle.
Bathtub Lifts - Allows seniors to bathe safely as it raises/lowers them into a bathtub. Battery or water powered.
Pool Lift - A portable or permanent lift to help seniors into and out of pools. Are water or battery powered and are a safe alternative to ladders and stairs.
Like Caring-for-Aging-Parents.com?