Wheelchair Lifts for Vans
Product Guide and Recommendations
Wheelchair lifts for vans are great for elderly who use a wheelchair and either still drive or have a family member or spouse that drives.
Although there are certainly wheelchair accessible taxis and public bus system options, nothing is more convenient than having access to a wheelchair accessible van.
Being able to go shopping, visit friends, doctors appointments and all other activities in the community is important for someone's mental well being.
Taxis and buses are not as convenient. You have to wait for a ride and pay each time you want to go anywhere.
This alone causes many seniors who use wheelchairs to stay at home more often than they would like.
Staying at home can lead to more physical and emotional issues such as depression and loneliness.
Who Should Use?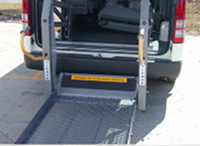 They are perfect for elderly who use a wheelchair and have difficulty transferring into a regular car or van.
They will need a spouse or family member capable of driving a van and assisting with operating the lift (which is fairly easy).
Besides the convenience of having wheelchair lifts for vans, they can also improve the physical and emotional health of the elderly.
Being able to access community activities such as shopping, restaurants, etc is important for a seniors sense of independence and freedom.
Recommended Features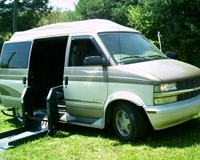 Good wheelchair lifts for vans will have:
Easy to use controls - Should be as simple 2 or 3 buttons.
Other passenger convenience Ability to enter/exit the vehicle door without having to operate the lift
Platform size - Can fit both manual and power wheelchairs of varying sizes and weights
Handrails - provide additional comfort and security
Compact design - so as little modification as possible is needed to the outside of the van (roof and side)
Non skid platform - To prevent wheelchair from sliding on platform.
Visibility for driver - Does not block view for driver while turning, etc.
How to Use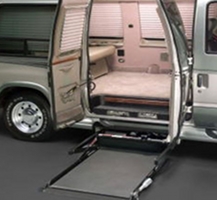 They are easy to operate:
Park in an area with enough room to open doors to access lift - as well as to manoeuvre wheelchair into position to access lift
Open doors
Lower lift using controls
Roll onto lift
Lock brakes
Use controls to raise lift
Roll into van
Secure wheelchair to van
Secure lift in travel position
Close doors and drive
Things to Consider Before Purchasing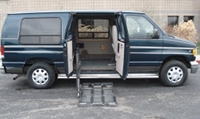 There are a number of things to consider when purchasing wheelchair lifts for vans:
Who will be driving it?
What type and size of wheelchair does the senior use? Will it fit?
Do you want to buy a van and have a business convert it?
Do you want to buy a van that is already converted?
How do you want to secure the wheelchair? Straps or quick locking devices (if available for the seniors wheelchair)
Where does the senior prefer to sit? They can be in the rear passenger area or some conversions allow the senior to sit in the front passenger seat area.
Do you want the lift from the side or rear of the van?
What type of van do you want to use? Full size or family van?
Weight capacity? Both the senior and the wheelchair (especially if a power wheelchair which can be quite heavy)
Single or dual post lift? Single pole is more compact and takes up less room. A dual pole is sturdier and can lift more weight.
Van modifications - Do you want a raised roof? lower floor? Extended door height?
Hydraulic vs electric - Most lifts are hydraulic because they are smoother, more powerful but also more expensive. The electric motors are not as powerful or as smooth but more affordable.
Side or rear lift? - Depending on parking at the house and in the community, it may make more sense to get one over the other.
How Much Do They Cost?
Wheelchair lifts for vans cost over $3000 and combined with converting van can be over $10,000.
Vans with wheelchair lifts already installed cost $12,000 (used) to over $50,000 new. Depending on the features and model of van.
Other Types of Lifts
There are a number of other lifts that can move seniors:
Like Caring-for-Aging-Parents.com?