Dumb Waiter
Features, Types and Recommendations
A dumb waiter is an elevator (or lift) for items such as food, groceries or laundry.
These mini elevators are in some older homes and are coming back in style for newer construction.
They are an easier and safer way to transport food, groceries and even laundry between floors.
This leaves the senior's hand free to hold onto railings while using the stairs.
In addition, a senior may be interested in a chair lift for stairs, a personal elevator or maybe a bathtub lift.
Lifts of all different types make life safer and easier for elderly.
Read more below to determine if this type of lift would be helpful for the elderly in your life.
Who Should Use?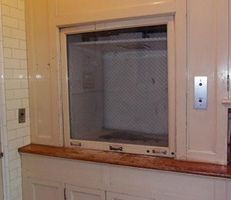 Dumb waiters are great for seniors who live in a multi level home and are at risk of falls.
Sending items up/down in the mini elevator instead of carrying them in their hands is much safer.
Some older homes already have them installed but seniors are also renovating their homes and putting them in.
It also adds value to the home as there is a growing need for homes that are more senior friendly.
Recommended Features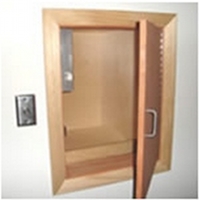 A good dumb waiter will include:
Easy to use - controls should be easy to use (as simple as up/down arrows)
Size - large enough to fit laundry and groceries (some older styled dumb waiters are small and seem to be only meant for plates of food)
Blend in with home design - They come in a wide variety of styles so it shouldn't be difficult to match it with another cupboard door in the kitchen.
How to Use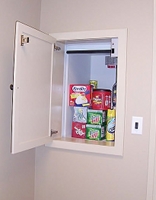 They are easy to use:
Open door
Put items in place
Close door
Use controls to chosen level of home
Go to other level and retrieve items
Things to Consider Before Purchasing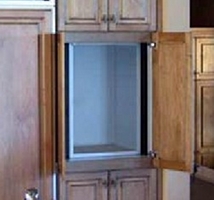 There are a few things to consider:
Home design - Is there a good location to have one installed? Maybe a spot where it reaches the kitchen, upper level bedrooms, lower level laundry and/or garage.
Size - It's always nice to have enough room to fit a laundry basket or other larger items.
Style - They come in a variety of styles to match almost all home style and design.
Number of stops - It is common to have 3-4 stops.
Weight capacity - Determine how much weight you will be using it for. The standard is usually ~100 pounds but there are models with higher capacity for larger items such as suitcases or 2 laundry baskets.
How Much Do They Cost?
Dumb waiters cost $3000 and more depending on how many stops and features needed.
Home design will be a factor as some designs are much easier to incorporate this type of lift. For example, some homes have closets in the same location on all floors which make it an ideal spot to install.
Other Types of Lifts
There are a number of other lifts that can help the elderly:
Like Caring-for-Aging-Parents.com?